Mexican Inspired Vegetarian Oven Roasted Stuffed Pepper Recipe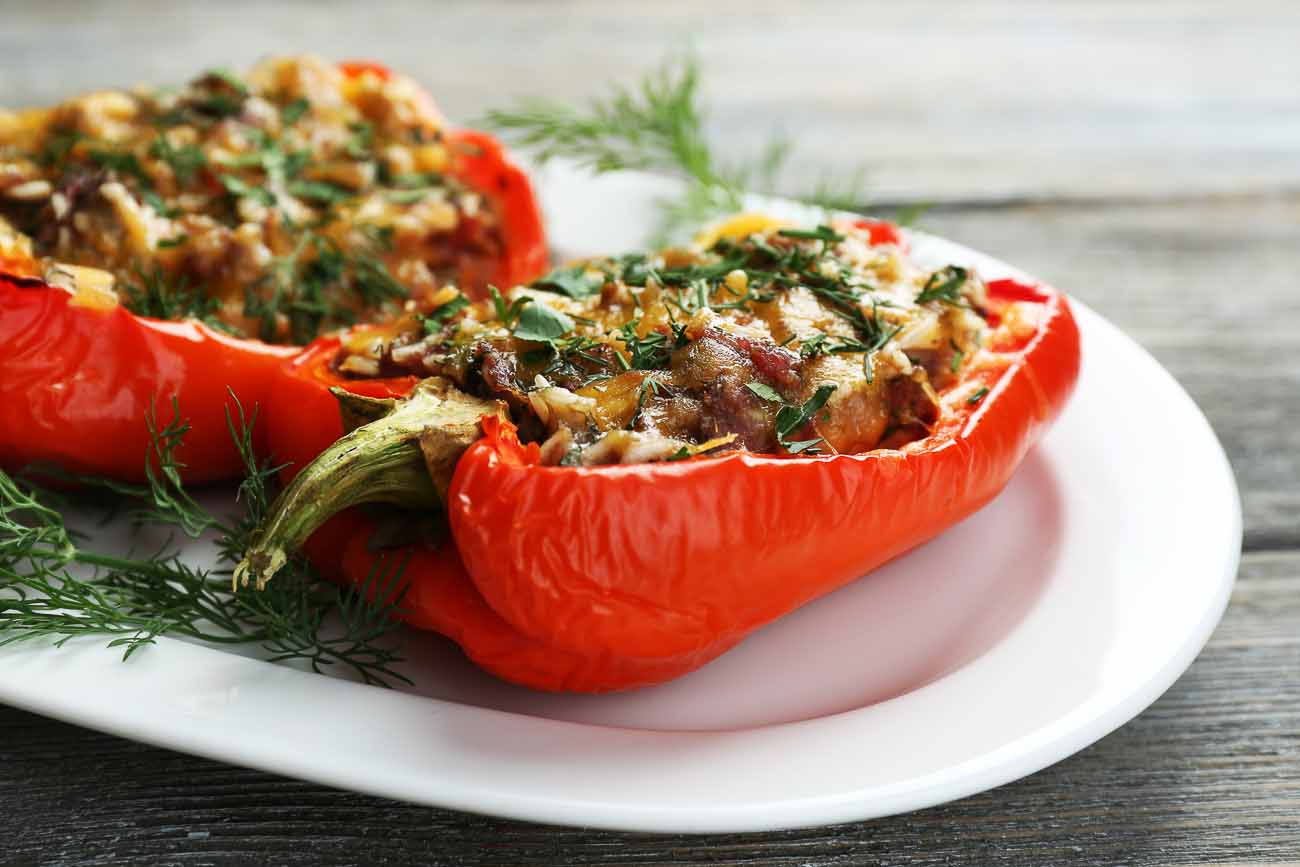 To begin making the Mexican Inspired Vegetarian Oven Roasted Stuffed Peppers, the first step is to half-roast the peppers. Begin by preheating your oven at 200 degrees C for 15 minutes.
Meanwhile, thoroughly wash the peppers and pat them completely dry. Then, slice the tops off to create a cavity in the peppers. Using a spoon,  scoop out the seeds. You may need to also gently slice off a little from the bottom of the peppers, so as to flatten the peppers and stabilize them when placed upright.
Next, line a baking tray with foil. Coat the peppers generously, on the outside with olive oil and line them on the baking tray, standing upright, with the open tops facing upwards. Place them in the oven, reduce the temperature to 180 degrees C and let them roast for 15 minutes, until they are partially roasted, but not cooked fully. Take care to keep a watch over them, as they should not overcook and wilt down too much. 
In the meantime, prepare the rice filling. Warm some olive oil in a skillet. Add in the onions and garlic and toss it on a high heat until the onions are wilted and pale. Add the chopped celery and sauté for 3-4 minutes.
The next step is to add the tomatoes, salt, pepper and allow the whole mixture to cook till mushy. At this stage, add the paprika and cumin powder and allow the spices to cook through.
Next, throw in the cooked kidney beans too. Mash up a few of them to create a little thickness. The mixture should be glossy and rich.
Add the cooked rice next, and toss together on a high flame till the rice is well incorporated. Add the grated paneer, chopped coriander and chopped mint too and mix thoroughly.
Turn the flame off and add the grated cheddar and mix well. The latent heat of the rice will cause the cheddar to melt a little. This is essential.
When the peppers have roasted partially, remove them from the oven and allow them to cool. Allow the oven to continue to pre heat, so you can put the peppers back inside once you have stuffed them.
Using a tablespoon, fill the peppers with the rice mixture, taking care to press it in and fill the cavity tightly. You may garnish the tops with coriander and grated cheddar cheese too. Line the stuffed peppers back on the baking tray and return them to the oven for another 15-17 minutes or until they begin to shrivel and char in some places.
Remove from the oven and serve. 
Serve the Oven Roasted Stuffed Bell Peppers as an appetizer along with Enchiladas Stuffed With Beans and Tartare Dip Recipe as main course and followed  by a dessert of Sticky Date (Fig) & Walnut Pudding Recipe with Toffee Sauce.