Manga Rasam Recipe – Raw Mango Rasam Recipe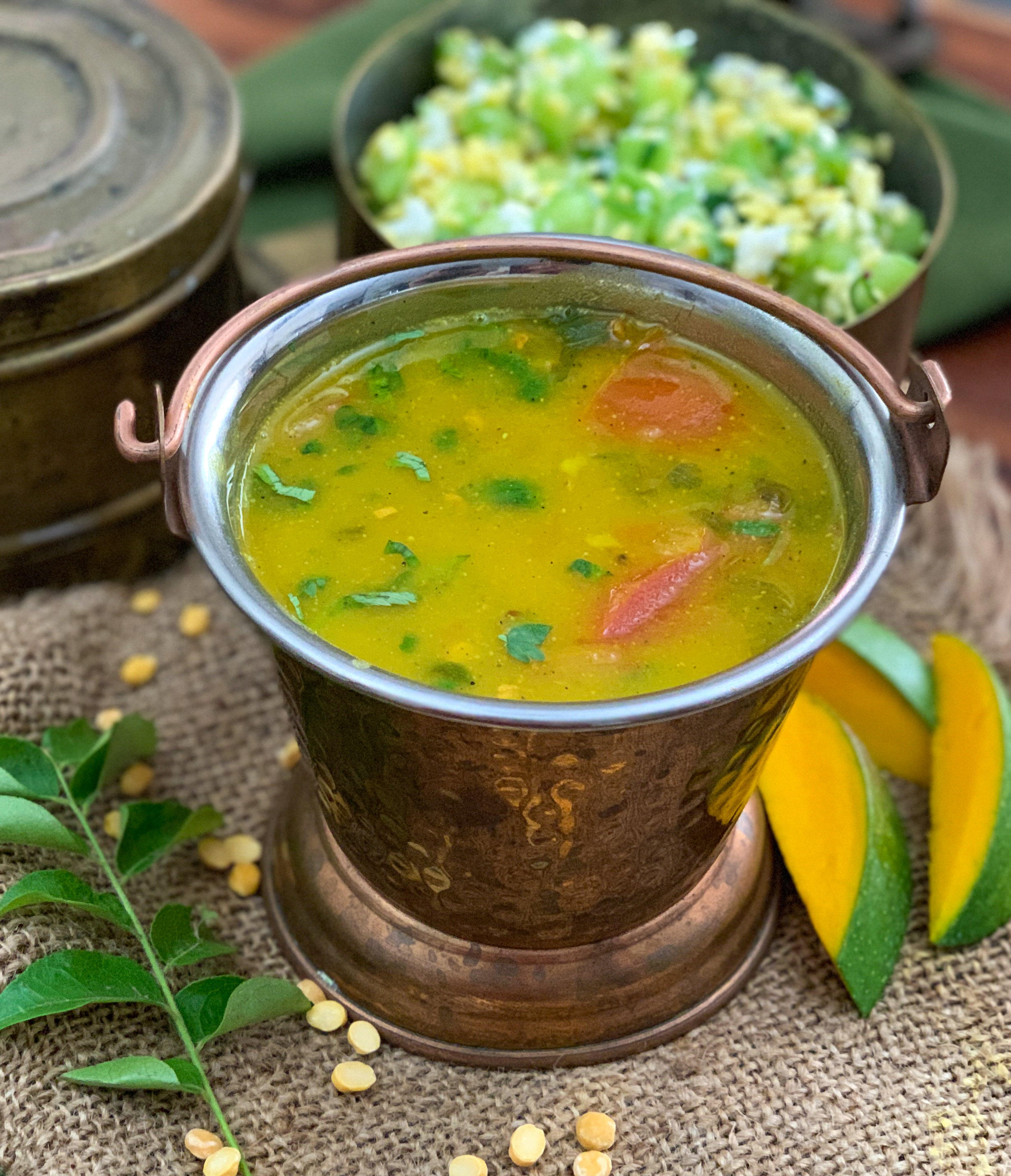 To begin making the Mango Rasam Recipe, first prep the fruit. Wash the mango, cut the stick and place it in a pressure cooker along with 1/2 cup of water.
Pressure cook for 5 to 6 whistles and allow the pressure to release naturally.
When the pressure releases and the mango has cooled, squeeze the pulp out and discard the stone and peels.  Add the mango pulp to a mixer grinder along with half a cup of water and blend to make  smooth mango puree. Keep aside.
Cook the toor dal in 1 cup of water for about 5 to 6 whistles and allow the pressure to release naturally. Once the pressure releases, mash the toor dal until smooth and keep aside.
Next, add the ghee in a saucepan. Once the ghee is hot, add mustard seeds and cumin seeds and allow it to crackle.
Once the seeds have crackled add  the asafoetida, curry leaves, green chillies and ginger and saute for a few seconds.
Add the mango pulp. tomato, lemon juice and all the masalas, black pepper powder, turmeric powder, cumin powder, jaggery, the cooked dal, salt to taste and mix well.
Add about 2 cups of water to adjust the consistency of the rasam. Bring the Mango Rasam to a brisk boil for about 10 minutes till you see froth around the edges and turn off the heat.
Stir in the chopped coriander leaves and transfer Mango Rasam into a serving bowl and serve hot.
Serve Mango Rasam Recipe along with Steamed Rice, Beetroot Poriyal and Elai Vadam for a weekday meal.