Godhuma Rava Payasam – Dalia/Broken Wheat Payasam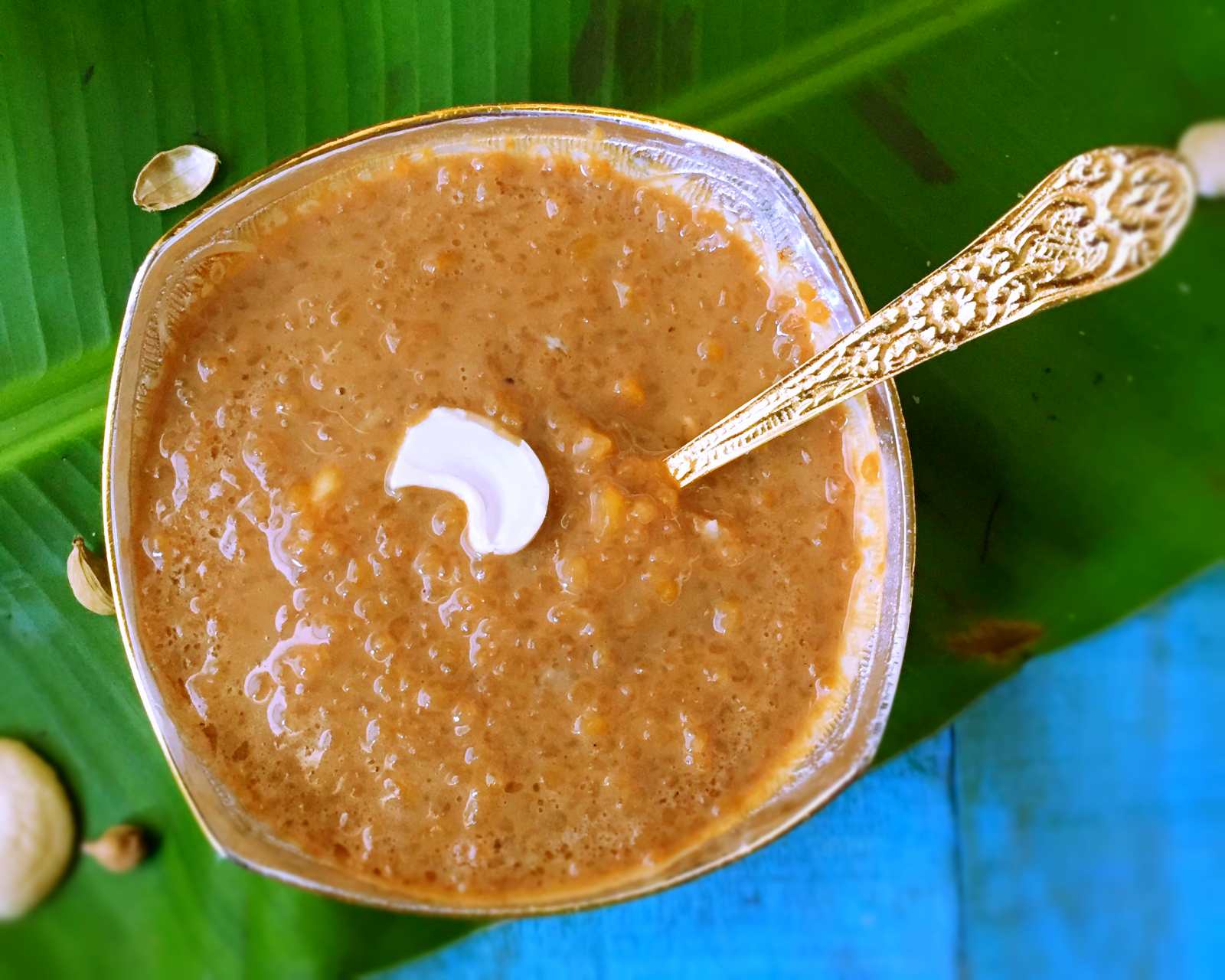 To begin making the Godhuma Rava Payasam, place a wide pan on medium-low heat, dry roast the dalia until it is hot to touch. Do not over roast. This will take about 3-4 minutes approximately. Transfer it to a bowl and set aside.
In the same pan, dry roast the moong dal till fragrant, for about 3-4 minutes. 
Mix the dalia and dal together, add it to a pressure cooker. Top it up with one cup of water and pressure cook it on a low to medium heat for up to 4 whistles. 
When the 4 whistles are done, turn the cooker off and allow the cooker to release all its pressure naturally. When you are able to open the lid easily, you will know the pressure has released.
Add half cup of water to the powdered jaggery, in a mixing bowl. Dissolve it completely, then sieve the mixture to remove impurities.
Place a wide pan on medium heat and add the jaggery water to it. Allow it to boil on a low heat for about 5 minutes.
Add the cardamom powder and the cooked dalia and dal mixture, and pour it into the jaggery mix.
Mix well to combine and allow them simmer for 3-4 minutes.
Add the grated coconut at this stage, mix well and switch off.
Then add milk and stir it in gradually. 
Heat a tadka pan with a teaspoon of ghee, add the broken cashews and saute till lightly brown and pour them over the prepared payasam.
Mix well and serve the Godhuma Rava Payasam hot or chilled on any festive occasion.
Serve Godhuma Rava Payasam along with a festive meal.  You can also serve it as dessert after a simple meal of South Indian One Pot Sambar Rice Recipe and Palak Bhajia Recipe
Thanks to the Courtesy of :

https://www.archanaskitchen.com/godhuma-rava-payasam-dalia-broken-wheat-kheer