Avarakkai Poricha Kootu Recipe – Broad Beans Kootu Recipe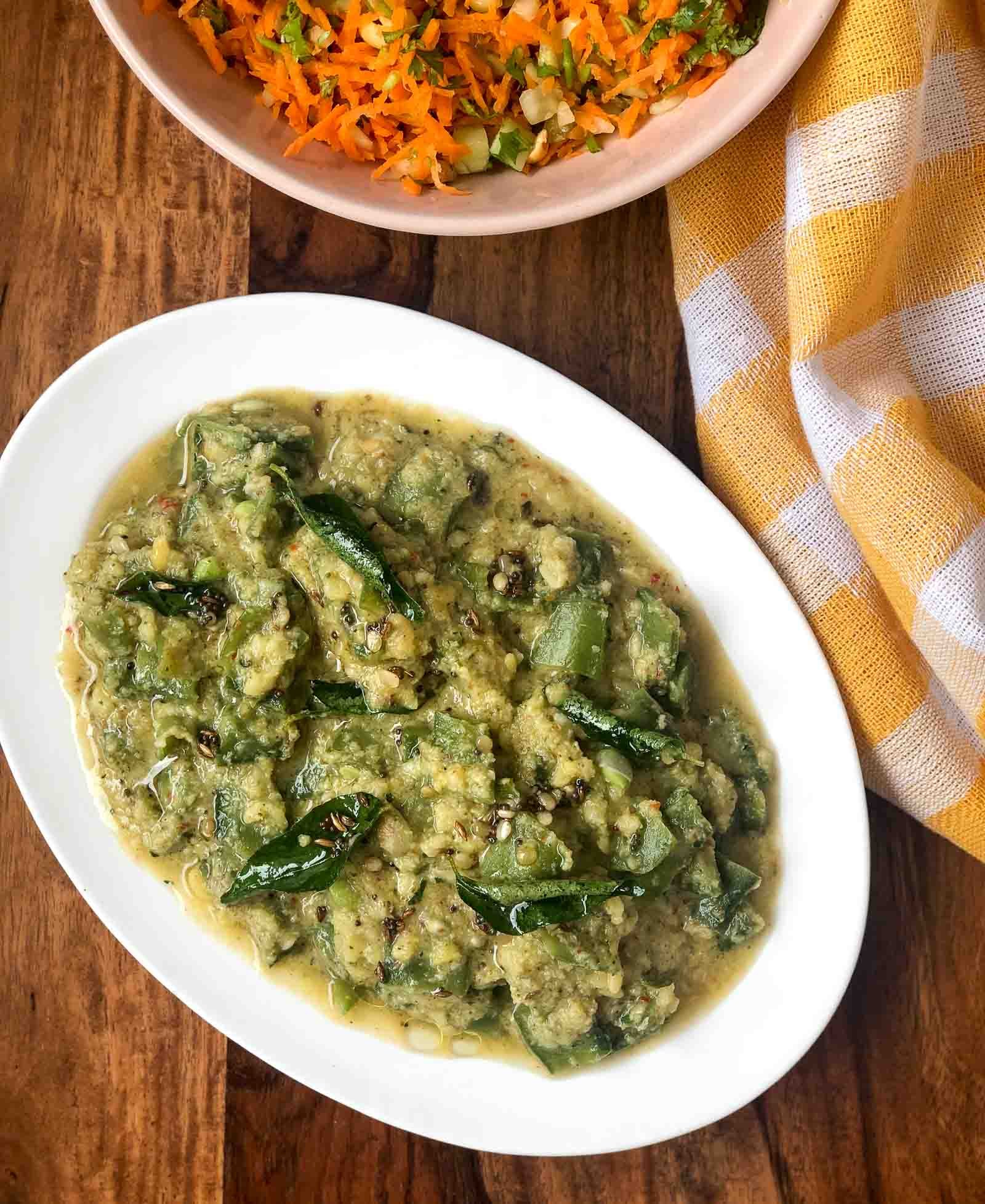 To begin making the Avarakkai Poricha Kootu Recipe ; we will first cook the moong dal lentils with about 1 cup of water in a pressure cooker, along with a 1/4 teaspoon of turmeric powder and salt to taste.
Pressure cook for at least 4 whistles and turn off the heat. Allow the pressure to release naturally and keep the cooked dal aside.
Place the Avarakkai in the pressure cooker, add a pinch of salt and 2 tablespoons water and pressure cook for one whistle. Once done, turn off the heat and release the pressure immediately.  
Releasing the pressure immediately will help, retaining the bright green color of Avarakkai.
Add the cooked Avarakkai to the cooked moong dal and give it a stir.
The next step is to grind the Avarakkai Kootu masala.
Into the mixer grinder, add the grated coconut, cumin seeds, curry leaves and the red chilli into a smooth paste. Add couple of tablespoons of water for grinding, this will help the coconut to blend well with the chillies.
Add the kootu masala to the Avarakkai and the dal. Stir well to combine. Check the salt and adjust according to taste.
Heat oil in a tadka pan; add the mustard seeds, halved white urad dal and allow them to crackle. Allow the dal to roast well until lightly browned and crisp on medium heat. Stir in the curry leaves and turn off the heat.
Once done, add this seasoning to the mixed Avarakkai Kootu and give it a stir.
When you are ready to serve, give it a brisk boil. You can adjust the consistency of the Avarakkai Kootu by adding a little water – keep in mind that Kootu as a dish is typically on a thicker side. 
Transfer the Avarakkai Kootu to a serving bowl and serve hot.
Serve the Avarakkai Poricha Kootu Recipe along with Thakkali Rasam Recipe, Keerai Masiyal, Steamed rice and papad for a wholesome Indian lunch or Indian dinner
Thanks to the Courtesy of :

https://www.archanaskitchen.com/avarakkai-poricha-kootu-recipe-broad-beans-kootu-recipe