Bengali Style Chicken Rezala Recipe – Chicken Korma Recipe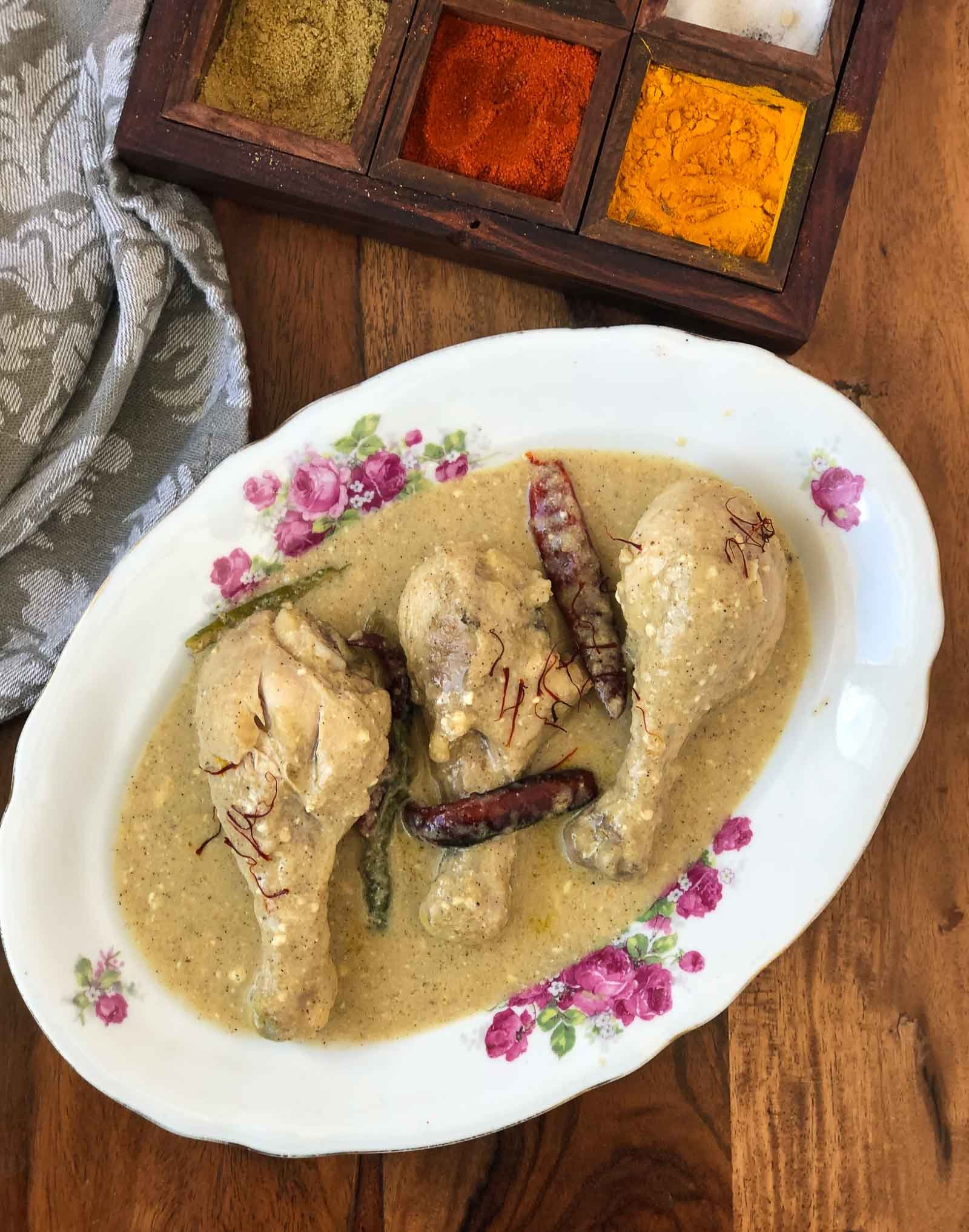 To begin making the Bengali Style Chicken Rezala Recipe – Chicken Korma, grind the onion, half of ginger and half of garlic in a mixer to a smooth paste.
Once the paste is made, remove and transfer it into a bowl. Wash the mixer and add cashew nuts and poppy seeds and add about 1/4 cup water and grind it into a smooth paste and set aside in a bowl.
Wash the chicken pieces well and place it in a bowl. Add half of the ground onion paste, half of cashew-nut and poppy seed paste, and 1 cup of yogurt, salt and 1 teaspoon pepper powder and give it a mix.
Marinate the chicken for at least 1 hour in the refrigerator, this will help to tenderise the chicken pieces.
Heat a kadai with mustard oil, once it is heated up, add all the whole spice like cloves, cinnamon, cardamom, bay leaf and dry red chillies and saute until the spice are roasted well. This will just take a minute.
Add the remaining chopped onion, ginger and garlic into the pan and saute for a couple of minutes.
Add in the remaining poppy seed and cashew nut paste and give it a stir.
Finally add in the marinated chicken pieces along with all the curd mixture into the pan, sprinkle 2 teaspoon garam masala powder, salt to taste and give it a slight mix.
Close it with the lid and allow the Chicken Rezala to cook on medium heat for 25 minutes until the chicken is tender and cooked.
Make sure you turn the chicken pieces in the middle and give the curry a stir so the chicken gets evenly cooked.
Open the lid and sprinkle a teaspoon of sugar and give it a stir and turn off the heat. Check the salt and adjust according to taste.
Transfer the Chicken Rezala onto a serving plate and sprinkle with few strands of saffron and serve hot.
Serve the Bengali Style Chicken Rezala Recipe along with Whole Wheat Onion Stuffed Kulcha and Begun Bhaja Recipe, Pickled Onions Recipe by the side to make your meal complete.
Thanks to the Courtesy of :

https://www.archanaskitchen.com/bengali-style-chicken-rezala-recipe-chicken-korma-recipe