Chocolate Salted Caramel Tart Recipe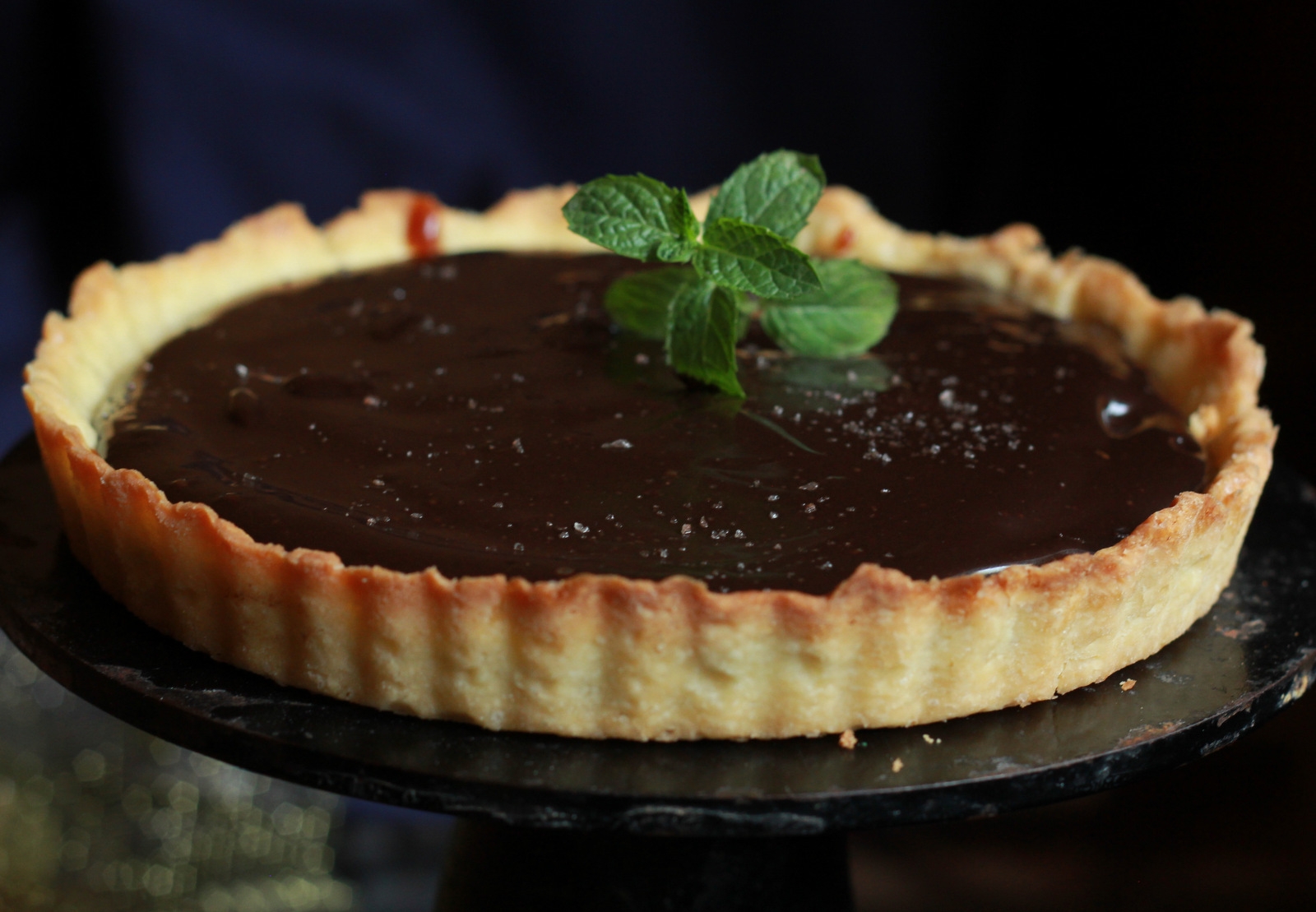 To begin making the Chocolate salted Caramel Tart first, make the tart base.
Whisk the flour and sugar in a mixing bowl or a food processor.
Add the butter and rub with your finger tips (if making by hand) till the mixture resembles bread crumbs.
Whisk and add the egg. Stir in the water and mix till it forms coarse dough
Working quickly bring together to form a ball.
Wrap in a cling film and refrigerate for at least 1 hour. Preheat the oven to 190 deg C.
Grease 2 -7 inch tart pans. Cut the dough into 2 parts.
Roll out one dough ball on a lightly floured working surface .
You can roll it out between 2 parchment sheets. Measure the size of the tart pan and roll out the dough accordingly.
Place the rolled out dough into the tart pan and press .
Prick with fork all over the base and place it in the refrigerator for 15 minutes.
Repeat with the other dough ball and other pan.
Place a parchment paper or foil over the pastry shell and fill with baking beans (or any beans). Bake in the oven for about 10 minutes .
Take out the beans and paper and return to the oven to dry out the base.
Bake for 4-5 minutes more or till the edges turn golden.
Cool as it is on a wire rack. After 15 minutes take out the pastry from the pan.
The next step is to make the caramel syrup. Add the sugar and water in a heavy saucepan.
Cook on low flame till the sugar dissolves. Increase the heat to medium and let the mixture boil. Do not stir.
Once the mixture turns a dark caramel colour take it off the heat.
Working quickly add the butter and the cream. The mixture will bubble vigorously.
Return it to heat and cook for 1-2 minutes more. Cool and keep aside till needed
To make the Ganache, place the chopped chocolate in a heat rpoog bowl.
Warm the cream till you can see bubble appear on the edge. Pour the cream over the chocolate. Wait for a minute and mix.
Mix till all the chocolate mixes with the cream. Keep aside till required.
To make the Chocolate salted caramel tart, Pour the caramel over both the tart shells.
Refrigerate for 2-3 hours. Pour the ganache over the caramel and refrigerate for another hour. Sprinkle some sea salt over the tart and serve.
Thanks to the Courtesy of :

https://www.archanaskitchen.com/chocolate-salted-caramel-tart-recipe