Kung Pao Tofu With Vegetables Recipe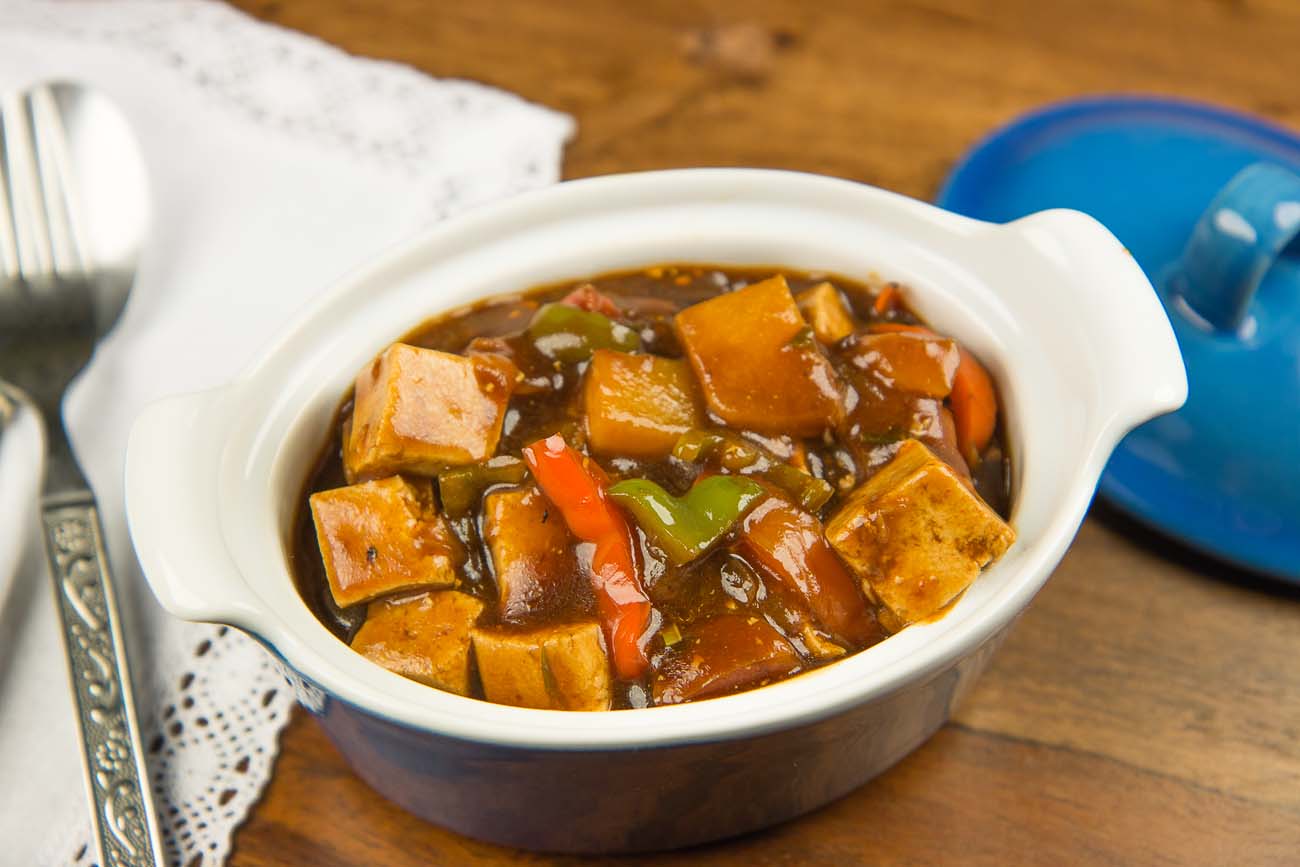 To make the Kung Pao Sauce; in a bowl, add all mix all the ingredients until well combined and keep aside. 
For Kung Pao Tofu; heat the sesame oil in a wok on medium high heat; add in the ginger, garlic, red chillies, green and red peppers and spring onions.
Saute on high heat until the peppers have slightly softened. Stir in the roasted peanuts, the crushed black peppercorns, tofu and the kung pao sauce. 
Keep stirring the sauce with the vegetables, until you notice the sauce is thickening. Check the salt and spice levels and adjust to suit your taste.
Give the Kung Pao with Tofu and Vegetables a quick boil and turn off the heat.
For the Fried Rice, heat oil in a pan; add the ginger, spring onion, beans, carrots, green bell peppers and salt.
Sauté on high heat for 3 to 4 minutes until the vegetables become slightly tender and have a firm bite.
Add the cooked rice, black pepper, and salt. Mix well and stir fry the chinese fried rice for 2 more minutes. Check the salt and seasonings and adjust to suit your taste.
Turn off the heat and transfer the fried rice to a serving bowl and serve hot.
Now that all the elements are ready, it's time for serving.
In a serving bowl like a cereal bowl/ salad bowl/ soup bowl. Spoon a portion of rice at the bottom.  Add a ladle full of the Kung Pao Tofu on one side of the bowl and serve hot.
Voila, your Rice bowl is ready to be served. 
Serve Kung Pao Tofu With Vegetables Recipe with brown rice or fried rice like above along with Cherry Tomato and Orange Salad Recipe and Toffee Banana Recipe for a complete weekend meal with family and friends.
Thanks to the Courtesy of :

https://www.archanaskitchen.com/kung-pao-tofu-with-vegetables-recipe