Transformation of the Day: Shanita lost 92 pounds. With her 40th birthday approaching and high cholesterol becoming a concern, this mom of three decided to make some changes. She got support from an online fitness program and focused on her "Why" to stay motivated.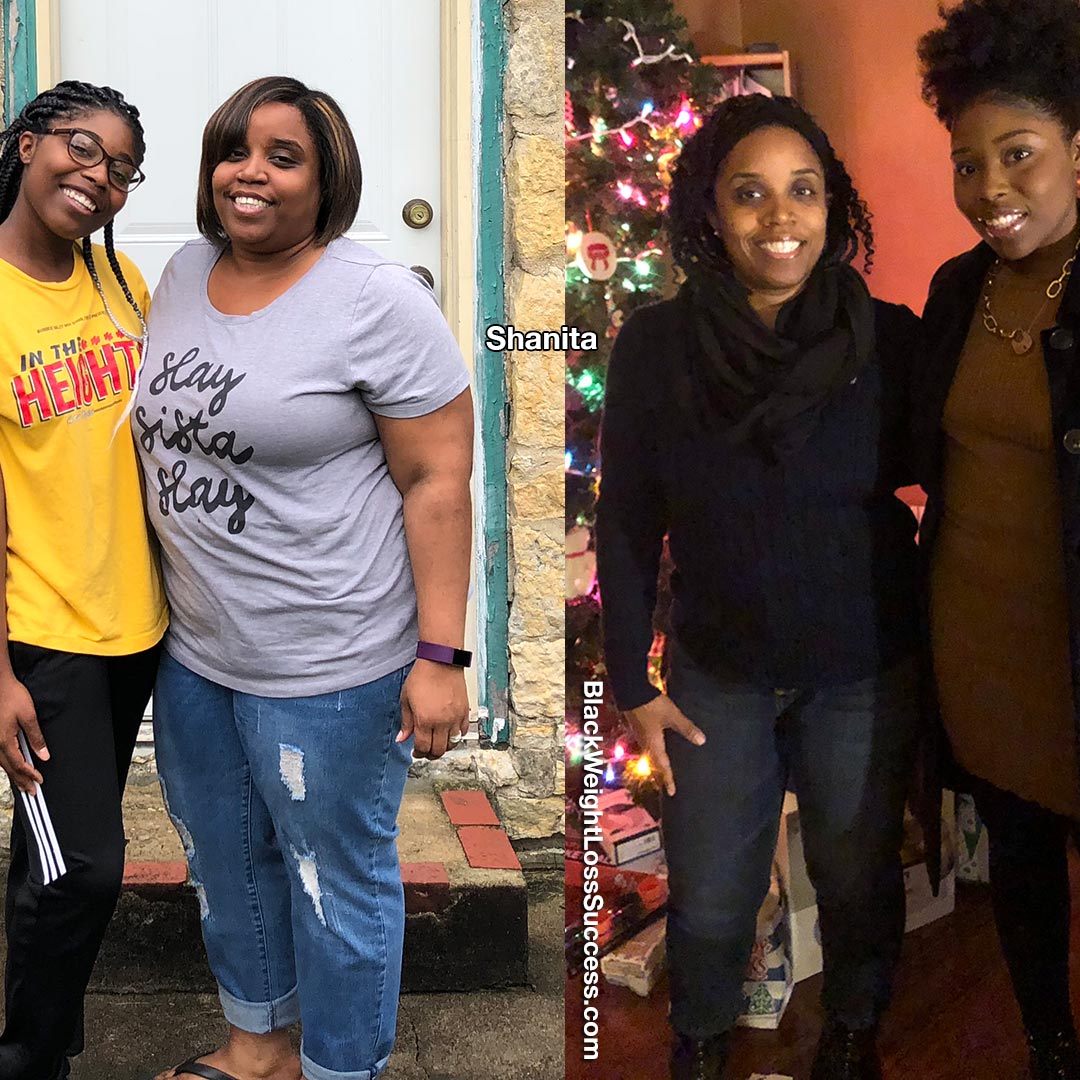 When did you start your journey? How long did your transformation take?
I decided to change in 2018, but the real work started in February 2019. I have about 10 lbs to go, but I have been on this journey for 11 months.
What was your motivation? What inspired you to keep going, even when you wanted to give up?
I went to the doctor in January of 2018 and learned that my cholesterol was very high. Hypertension runs in my family, so I knew my risk of a cardiovascular event was very high. I started to walk more in 2018 and purchased a Fitbit to track my steps that summer. However, I needed to change my nutrition and get even more active. 
In January 2019, I went to a wedding in Punta Cana and was not at all happy with how I looked, plus the possibility of having to start medication was looming. In addition to all of this, I am closing in on 40 years old and want to be fit for my 40th birthday. 
I have three kids that I want to be here for, so in February 2019, I got serious. That's when I saw real results. 
How did you change your eating habits?
A friend of mine introduced me to macros and helped me calculate the nutritional content of my diet for weight loss. I used My Fitness Pal and the Fitbit app. I started tracking what I ate, watching the amount of carbs I consume, and added protein shakes to my diet. 
In July 2019, I joined MPowered Fitness (an online group) and gained the support of amazing women and our fantastic coach, Coach Maria. This program supported my desire to learn more about nutrition and exercise. It also helped me understand my why, my emotional triggers, and the importance of sleep and water intake. 
What did your workout routine consist of? 
I started exercising at home using the Fitbit exercise program four days a week. Then, in March, I went back to the gym. Now, I work out 5-6 days per week. I do about 30 minutes of cardio and 30 minutes of weights/body sculpting. I also take step aerobics on Saturday, which I really enjoy. 
What was your starting weight? What is your current weight?
My starting weight in 2018 was 247 pounds. Now I weigh 155 pounds. 
What is your height?
5'1" 
Is weight loss surgery part of your journey?
I did not have surgery, but I support those who choose that route. 
What is the biggest lesson you've learned?
Consistency is key. You may have a slip-up, but it's how you recover that matters. 
What advice do you have for women who want to lose weight?
Start with your why. Why are you starting the journey? What are you looking to accomplish? Try not to make your goal based on superficial things.
Instagram: @Shanita_np16
Disclaimer: Reference or link to any specific product, diet plan, exercise plan or service mentioned in the weight loss stories we share is for the information of our readers, and does not constitute an endorsement or recommendation by Black Women Losing Weight.
Thanks to the Courtesy of :

https://www.blackweightlosssuccess.com/shanita-lost-92-pounds/