Roasted Eggplant & Olive Lasagna Recipe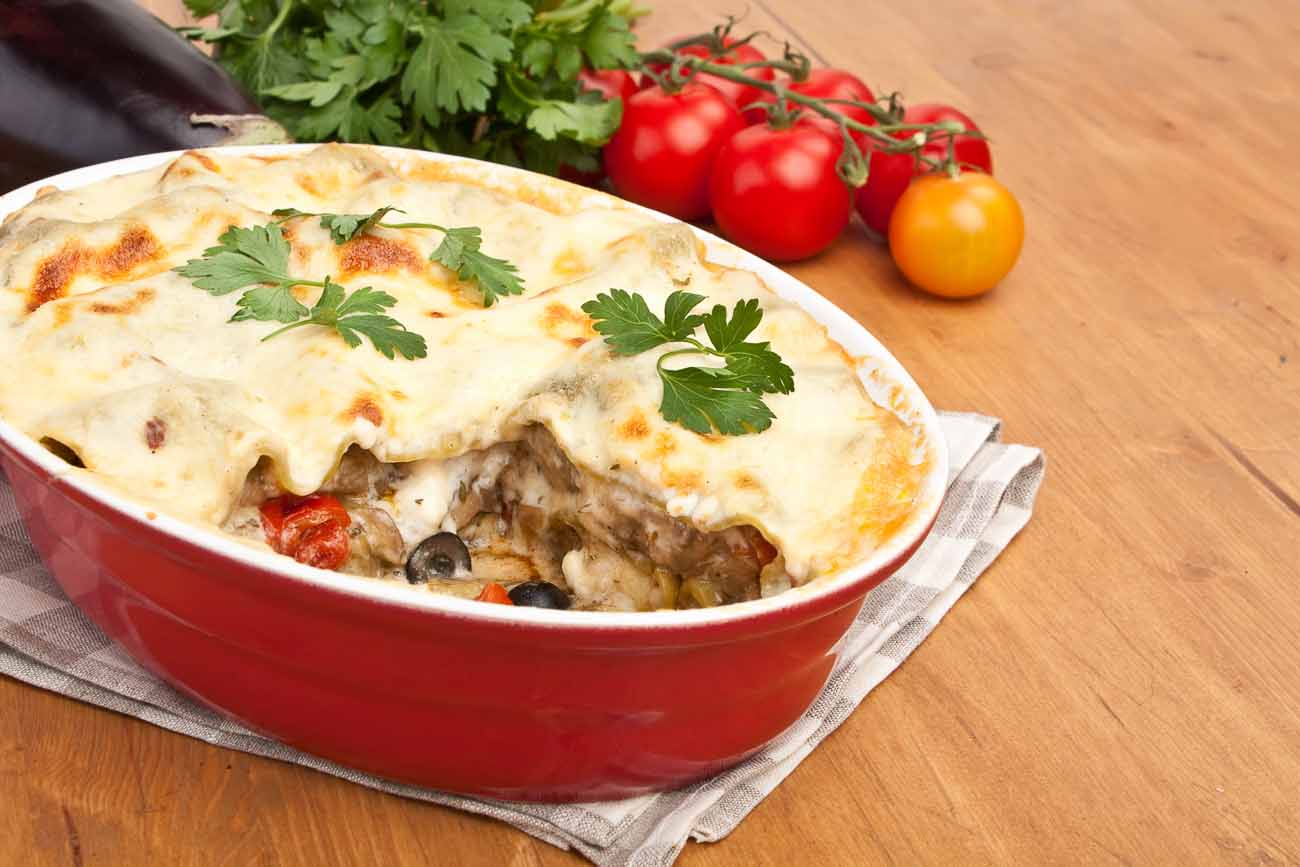 Tobegin making the Roasted Eggplant & Olive Lasagna recipe, make sure you have the tomato basil sauce ready and all the vegetables chopped fine. We will first roast the vegetables.
Heat a tablespoon of olive oil in a large wok; add the chopped garlic and the vegetables for roasting into the wok. Sprinkle some salt, and roast the vegetables until soft and tender.
Once the eggplants and pepper are well roasted, sprinkle the oregano and turn off the heat.
Preheat the oven to 180 C. 
We will now assemble all the ingredients to make the Roasted Eggplant Lasagne.
Spread a ladle of sauce at the bottomed of the Lasagna Pan. Place the Lasagna Sheet to spread it evenly in the pan. You might have to place two sheets. Sprinkle the roasted eggplant and a few crumbles of the paneer. Pour another ladle full of sauce around the vegetables, then sprinkle some parmesan and place the sheets once again on the top.
Continue the process, until all the vegetables and sauce have been layered one over the other. You might get a maximum of three layers.
On the final layer, make sure you have enough sauce to pour over the sheets and finally spread the mozzarella cheese all around.
Cover the Roasted Eggplant Lasagna Pan with an aluminum foil and place it in the preheated oven to bake for 40 minutes.
After 40 minutes of baking, remove the Roasted Eggplant Lasagna from the oven and allow it to rest for 10 minutes before you can serve.
Serve this Roasted Eggplant & Olive Lasagna Recipe with fresh vegetables salad, Creamy Coconut Poached Pears Recipe or Rich Decadent Chocolate Souffle Recipe for dessert.
Thanks to the Courtesy of :

https://www.archanaskitchen.com/roasted-eggplant-lasagna-in-marinara-sauce