Love bites: Make these chocolate hearts for your keto sweetheart – Roanoke Times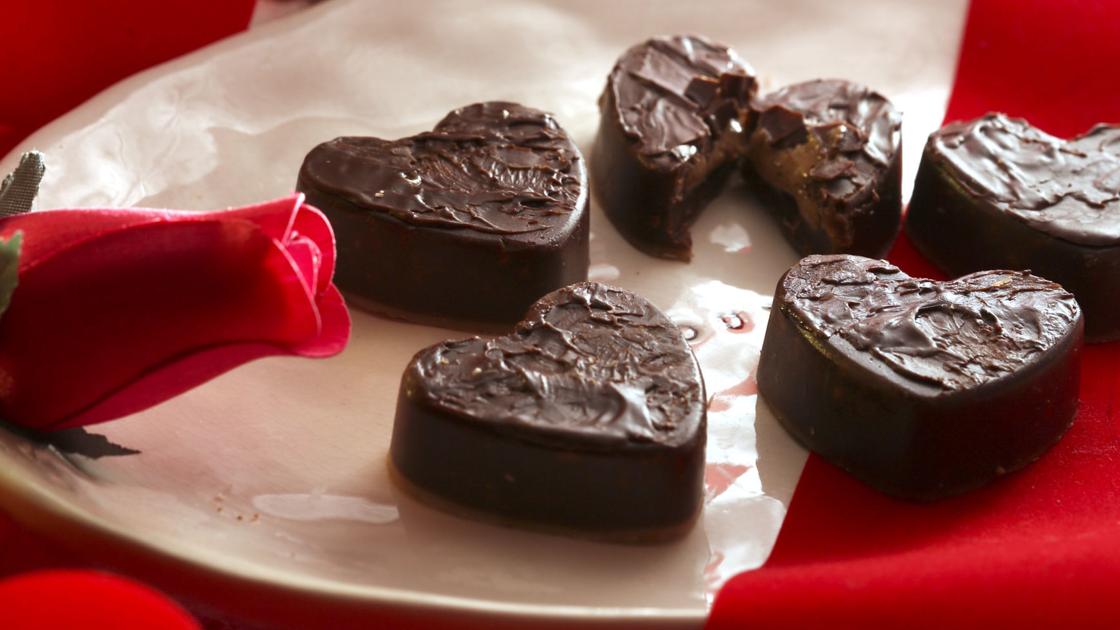 Having a sweet Valentine's Day doesn't require a ton of sugar.
When my husband, Brad, started the ketogenic diet a few months ago, we both began checking nutrition labels more closely. We were shocked at the amount of added sugar not just in obvious sweets like cookies and snack bars but also in other seemingly innocuous products, like ketchup and yogurt.
Keto, for short, encourages the body to maintain ketosis, a metabolic state in which the body burns fat for energy rather than carbohydrates. Although I haven't found the willpower to tear myself away from sugar just yet, it's been eye-opening watching my husband's struggle.
Despite his enthusiasm for the keto diet, he initially had trouble finding foods low in sugar that satisfied his hunger and gave him enough flavor variety. So for Christmas, I found a recipe for chocolate fat bombs, so called because they're high in fat and low in carbs. According to the keto diet, these types of treats are good for pick-me-ups between meals to keep the body's blood sugar in balance without disrupting ketosis. They're also really, really tasty.
For a novice baker like me, this recipe for Keto-friendly Chocolate Hearts from the Caveman Keto blog fit the bill. The recipe only involves a few steps, a microwave and a ridiculously small amount of time. For my latest batch, I was even able to pour my chocolate mixture into molds while wrangling a fussy baby on one hip.
Although the ingredients were not items already in my pantry, I easily found them at the grocery store. The hearts derive their sweetness from a liquid sugar substitute (I used Stevia Zero), sugar-free vanilla syrup, dark chocolate and cocoa powder. Coconut oil, almond butter and cream cheese bump up the fat content without a lot of carbs.
If you're not familiar with almond butter, it's worth making this recipe just for an excuse to buy a jar. The flavor is reminiscent of peanut butter, but it tastes nuttier and not as sweet. With a delicious gooey bite of almond butter in the middle of each heart, this recipe replicates the texture of a Reese's Peanut Butter Cup. Alternatively, you could mix the almond butter in with the other ingredients if you're in a hurry or don't care for the consistency of a peanut butter cup (in which case, who are you?!).
To pile on the mawkishness for my Christmas gift to my husband, I purchased a new silicone heart mold with 24 cavities to make these chocolates. (Each heart cavity measures 1.5 by 1.75 inches.) This type of mold is even more seasonally appropriate for Valentine's Day.
As a first-time user of a silicone mold, I was pleased with its ease of use, but I learned a few lessons along the way. Because the mold is flexible, transferring the mold with filled cavities into the freezer was a messy affair. I eventually wised up and stuck a plastic cutting board underneath the mold before I filled the cavities. This provided a stable base for moving the mold into the freezer. Depending on the size of your freezer, you could use a cookie sheet as a base. A smaller mold could also assist in the transfer, since it would be easier to manually keep rigid.
The original recipe suggested freezing the hearts for 30 minutes to an hour, but after several batches, I learned that you can't hurry love. Sometimes you just have to wait.
Let the hearts freeze for at least an hour (or more if you have time). If you don't allow your hearts to harden enough, the almond butter will ooze out of the hearts when you try to push them out of the mold.
For the impatient among us, this gooey mess still tastes great, but if you're trying to create a gift with some wow factor, wait it out. To hide any outward imperfections, spread some melted chocolate on top of the hearts for a finishing touch.
It's a good thing that the prep time for these hearts is so quick and painless; otherwise, I don't think I'd be able to keep pace with my husband's appetite. We stored a recent batch in the freezer to save for "later." You can imagine how that went. He ended up grabbing them straight out of the freezer one at a time for frozen chocolate treats. When I get the chance to sneak in a bite for myself, I must say these taste decadent and delicious, even for someone who still has an intimate relationship with sugar.
If you're looking to make a romantic gesture this Valentine's Day, mix up a quick batch of these chocolate treats and eat your heart out.
Keto-Friendly Chocolate Hearts
Prep and cook time: 5 minutes
Freezer time: At least one hour
Notes: You can mix the almond butter in with the rest of the batter if you want a more consistent flavor and easier prep. You can substitute any mold to create your own inspired chocolate shapes.
1 oz. sugar-free vanilla syrup
4 oz. dark chocolate melting wafers (Ghirardelli, or similar brand)
Additional chocolate wafers for finishing layer (optional)
In a microwave-safe bowl or measuring cup, combine all the items except the almond butter.
Microwave for 30 seconds; then, stir the ingredients. If the chocolate is not fully melted, microwave again and continue stirring.
Pour a base layer of the chocolate mixture into each heart section of the mold. Then, use a spoon to place a dollop of almond butter in the center of each one, trying not to let the almond butter touch the sides of the mold. Pour the remaining chocolate mixture into each mold to fill it up.
Freeze until the chocolate hardens; then push each chocolate heart out of the mold. Melt additional chocolate wafers, if desired, to spread on top of the hearts for a finishing layer. Keep refrigerated.
Nutrition (per heart) | 120 calories; 10 g total fat; 7 g carbohydrates
Thanks to the Courtesy of :

https://www.roanoke.com/entertainment/love-bites-make-these-chocolate-hearts-for-your-keto-sweetheart/article_6f1f31f1-e9bf-567e-b620-328ba24a8b10.html