Shakshuka With Spinach & Feta Cheese Recipe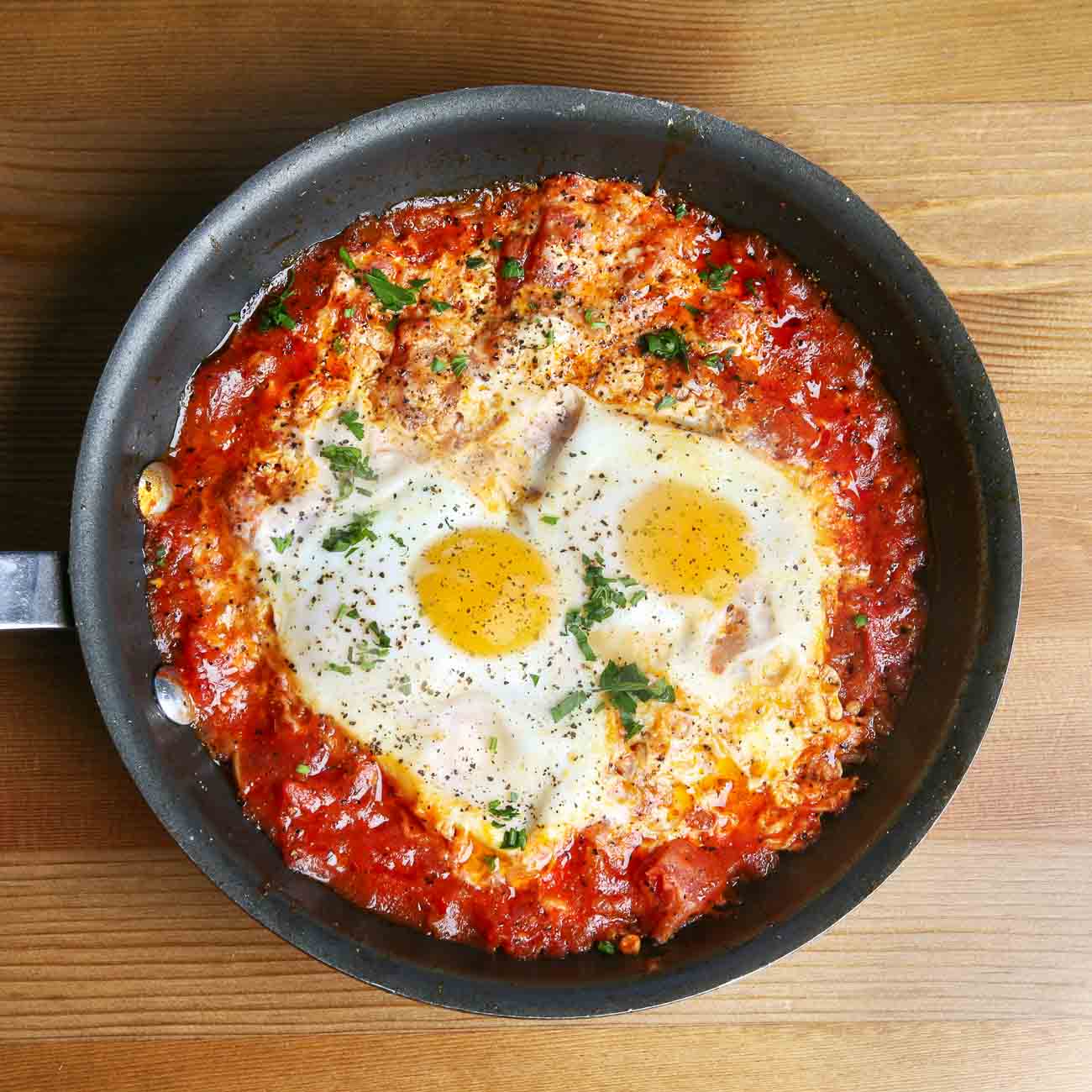 To begin making the Shakshuka With Spinach & Feta Cheese Recipe we first have to get all the set of ingredients ready. Have the tomato puree ready and some tomatoes, blanched and chopped roughly.
Preheat the oven to 180 C.
Heat oil in a cast iron pan.  Add the onions, garlic, chopped red bell peppers and sauté over medium heat until soft and tender. Add in the jalapenos and spinach and cook for another couple of minutes until the spinach wilts down.
Finally stir in the tomato puree, along with the chopped tomatoes, bay leaf, salt, sugar, red chilli, paprika, cumin powder and cook them all together for another 5 to 10 minutes until the spicy tomato sauce has slightly thickened.
At this stage, stir in the feta cheese, check the salt and spices and adjust to suit your taste.  Remember feta already has a lot of salt in it.
Finally, crack the eggs into the tomato mixture and space them out evenly. Place the Shakshuka into the oven and bake until the eggs are just about set and cooked from the top. This would take about 5 to 7 minutes. 
Once done, remove from the oven, sprinkle the chopped coriander leaves on the top and serve it along with a hot sauce.
Serve the Shakshuka With Spinach And Feta Cheese along with whole grains like couscous or a steamed millet, and a side of Rustic Rosemary Garlic Zucchini Bread to make it a complete meal by itself.
Thanks to the Courtesy of :

https://www.archanaskitchen.com/shakshuka-with-spinach-and-feta-cheese-recipe