Hyderabadi Vegetable Biryani Recipe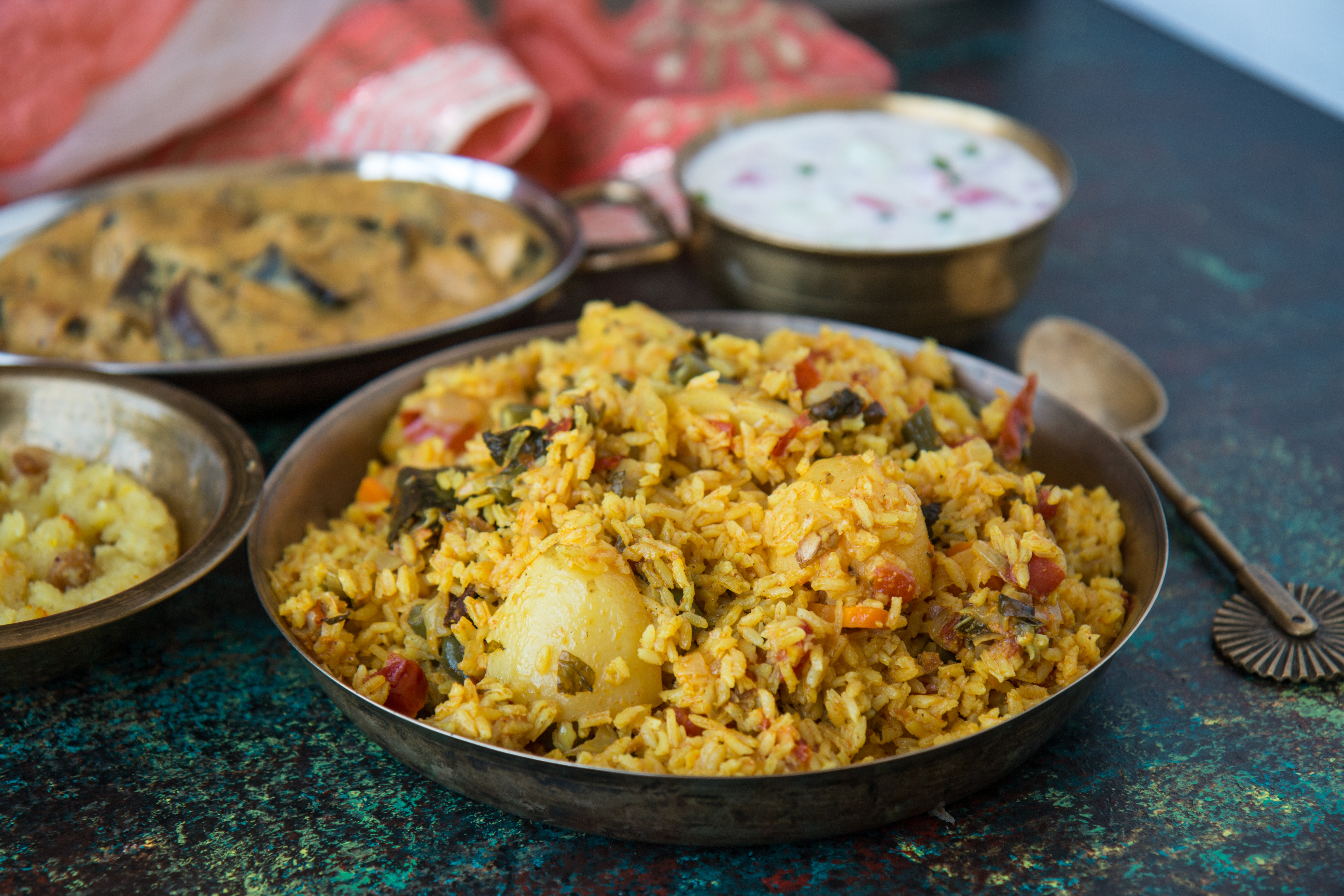 To begin making the Vegetable Hyderabadi Biryani, prep all the ingredients and keep them ready.
Prepare the dough for dum cooking. Into a large mixing bowl, add the flour and little water at a time to make a firm dough and keep aside. We will use this dough to seal the vessel to dum cook the biryani.
Into a saucepan, add the rice with 2 cups of water along with salt and bring it to a brisk boil for 4 to 5 minutes and turn off the heat. This rice will be only half cooked as we are adding only half the amount of water to cook the rice.
The rice will then get cooked further along with the masala below.
Make a paste of the ginger garlic and green chillies either in a mixer grinder or in a pestle and mortar. Keep aside.
Into a large pan where you plan to cook the Hyderabadi Vegetable Biryani, add the oil and preheat it over medium heat.
Add the onion, ginger garlic green chilli paste, cinnamon, cloves, bay leaf and cardamom. Saute until the onions turn brown and caramelised. Ensure you do it on low heat so the onion caramelises evenly.
Add the finely chopped tomatoes. Sauté the tomatoes for about 5 minutes until mushy. Add the turmeric powder, chilli powder, coriander powder and garam masala powder.
Add the yogurt at this point, the potatoes and the remaining vegetables and simmer for another 2 minutes until it is bubbling and gets a good aroma.
Finally add in the mint leaves potatoes, half cooked rice, any additional salt that is required. Give the Hyderabadi vegetable biryani a taste, to make sure the overall salt and spice levels are good to go.
Add about 1/2 cup of water and cover the pan. Now it's time to seal the ends of the vessel with the dough for dum cooking. 
Elongate the dough into a large log and seal the Biryani Pan and the lid with the dough so, the flavours get contained in the pan and the steam does not escape as well. This helps to bring in the delicious flavours to the biryani.
Turn the heat to low and cook the Hyderabadi Vegetable Biryani for about 20 minutes. You will begin to start getting the delicious aromas after about 10 – 12 minutes of cooking the biryani. 
After 20 minutes of dum cooking the Hyderabadi Vegetable Biryani, turn off the heat and allow the biryani to rest.
Open the pan after 5 minutes of the resting period and give the Hyderabadi Vegetable Biryani a gentle stir, to combine all the masala and vegetables into the rice. 
Serve Hyderabadi Vegetable Biryani Recipe along with Hyderabadi Bagara Baingan, Onion Tomato Cucumber Raita for a delicious sunday lunch.
Thanks to the Courtesy of :

https://www.archanaskitchen.com/hyderabadi-vegetable-biryani