Herb & Cheese Mushroom Omelette Recipe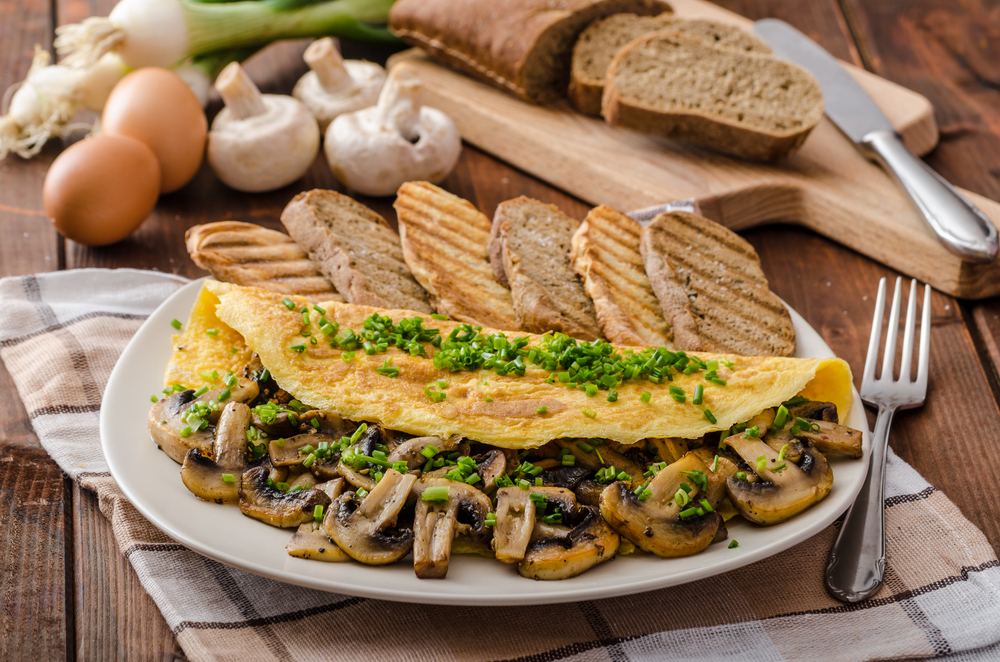 To start making Herb & Cheese Mushroom Omelette, heat a cast iron skillet over medium heat. Add butter and once butter is melted add garlic and onions. Sauté for a minute or so but no need to brown the onion and garlic.
Add the sliced mushrooms along with salt and pepper to taste. Cook mushrooms till tender and the excess liquid in the skillet is evaporated.
Remove from heat and chopped parsley along with cheese. Stir to combine. Set aside while you prepare the omelette. 
Take a bowl and whisk the egg, milk, salt and pepper. Whisk until egg whites and yolks are well blended.
Heat a cast iron pan over medium heat and add a teaspoon of olive oil.
Pour half of the prepared egg mixture.
Spread it out evenly using a spatula. When the eggs mixture looks stable from top and not runny, fill in half of the prepared mushroom filling on one side.
Close the other half over and let the omelette cook for few seconds. 
Transfer the Mushroom Omelette to the serving plate. Prepare the remaining mushroom omelettes using the similar way.
Serve Herb & Cheese Mushroom Omelette with a glass of Chickoo Banana Date Smoothie for the power packed healthy breakfast.
Thanks to the Courtesy of :

https://www.archanaskitchen.com/herb-cheese-mushroom-omelette-recipe