Nawabi Kofta Curry Recipe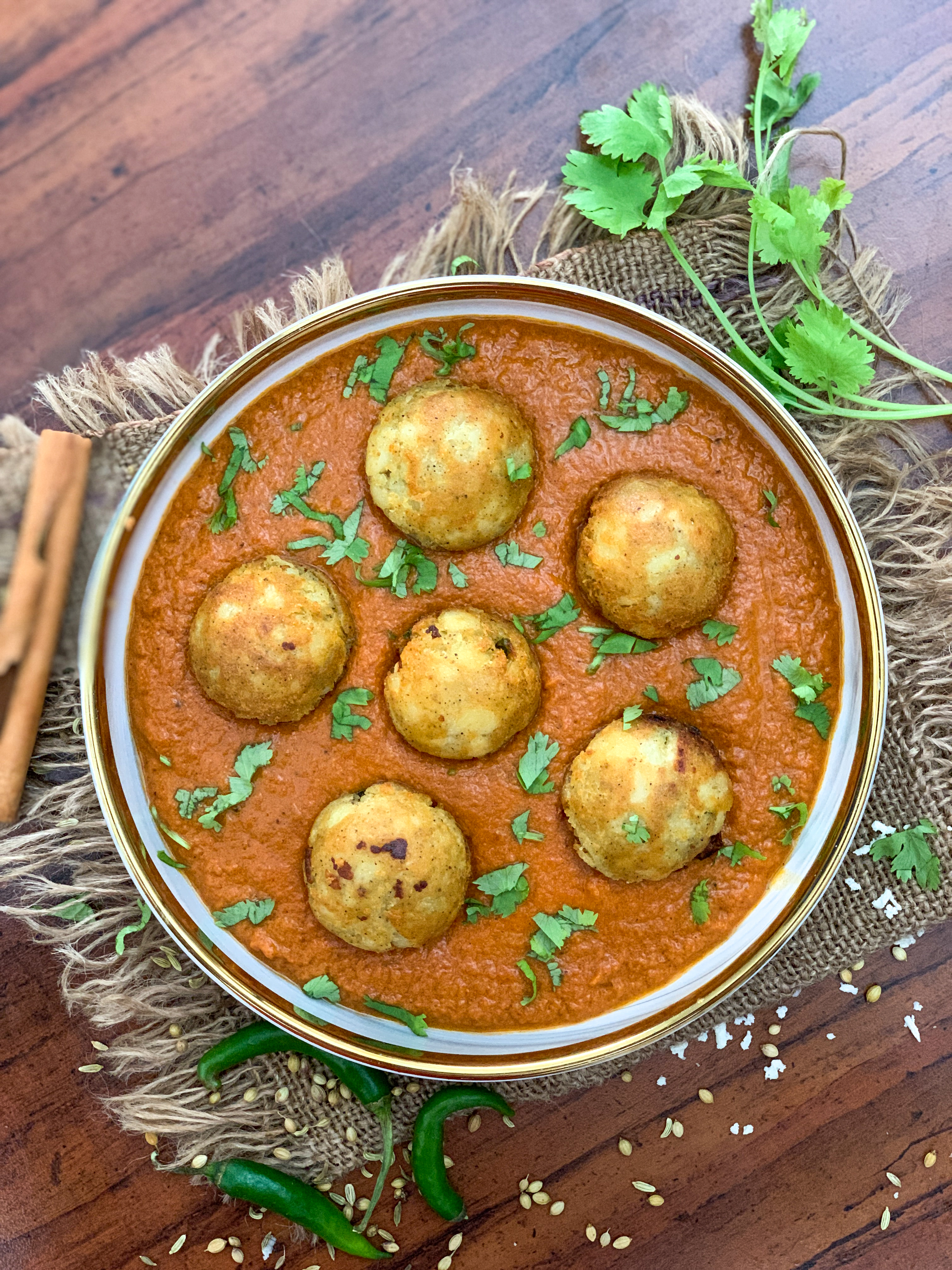 To begin making the Nawabi Kofta Curry Recipe, we will first make the kofta for the curry.
In a large bowl, combine the mashed potatoes, along with the salt and pepper powder. Mix well to make a smooth mixture. Grease palms with oil divide them into 6-8 equal portions shaped into balls.
To make the filling of the nawabi koftas, in another bowl, combine the crumbled paneer, cashew nuts, raisins, green chillies, salt, cumin powder, garam masala powder and coriander leaves. Mix well to combine them, grease palms with oil divide them into  6-8 equal portions shaped into balls.
Next grease your fingers and palms with oil. Take one portion of the potato mixture and flatten it on the palm of your hand. Place the paneer – dry fruit filling in the center.
Then bring the edges of the flattened potato towards the center to cover the filling forming a stuffed aloo kofta. Proceed the similar way to make the rest of the koftas.
Preheat a paniyaram pan, with a few drops of oil in each of the cavities on medium high flame.
Once the oil is hot, gradually lower the koftas into each of the cavities, flip and cook until golden brown in colour.  
Drain them on an absorbent kitchen towel and set aside. 
*To make the Nawabi Kofta Curry Recipe
In a small skillet, dry roast the fennel seeds, coriander seeds, cloves, cinnamon and cardamom for about 3-4 minutes on medium low flame or until the aroma of the spices wafts in the air. 
Turn off the flame, allow it to cool and transfer the spices into a mixer jar and grind the spices into a coarse powder. 
In a mixer jar, combine the onions, garlic, and ginger, grind to a smooth paste. Transfer to a bowl and set aside.
Heat ghee in a heavy bottomed pan; add the freshly ground paste and sauté on medium heat for about 4-6 minutes. Add in the freshly ground spice mixture to this and stir until you get the aroma from the spices.
Add the tomato puree, turmeric powder, chilli powder, sugar and simmer for about 5 minutes until the tomato is bubbling and has combined well into the spicy forming a delicious aromatic Nawabi Kofta Curry gravy.
Add in the fresh cream and a little water if required and simmer for a few more minutes.
Serve the Nawabi Kofta Curry Recipe along with Dal Makhani, Tomato Onion Tadka Raita, Butter Naan and Vegetable Pulav for a delicious weekend meal.