Traditional Shahi Tukda Recipe – Hyderabadi Double Ka Meetha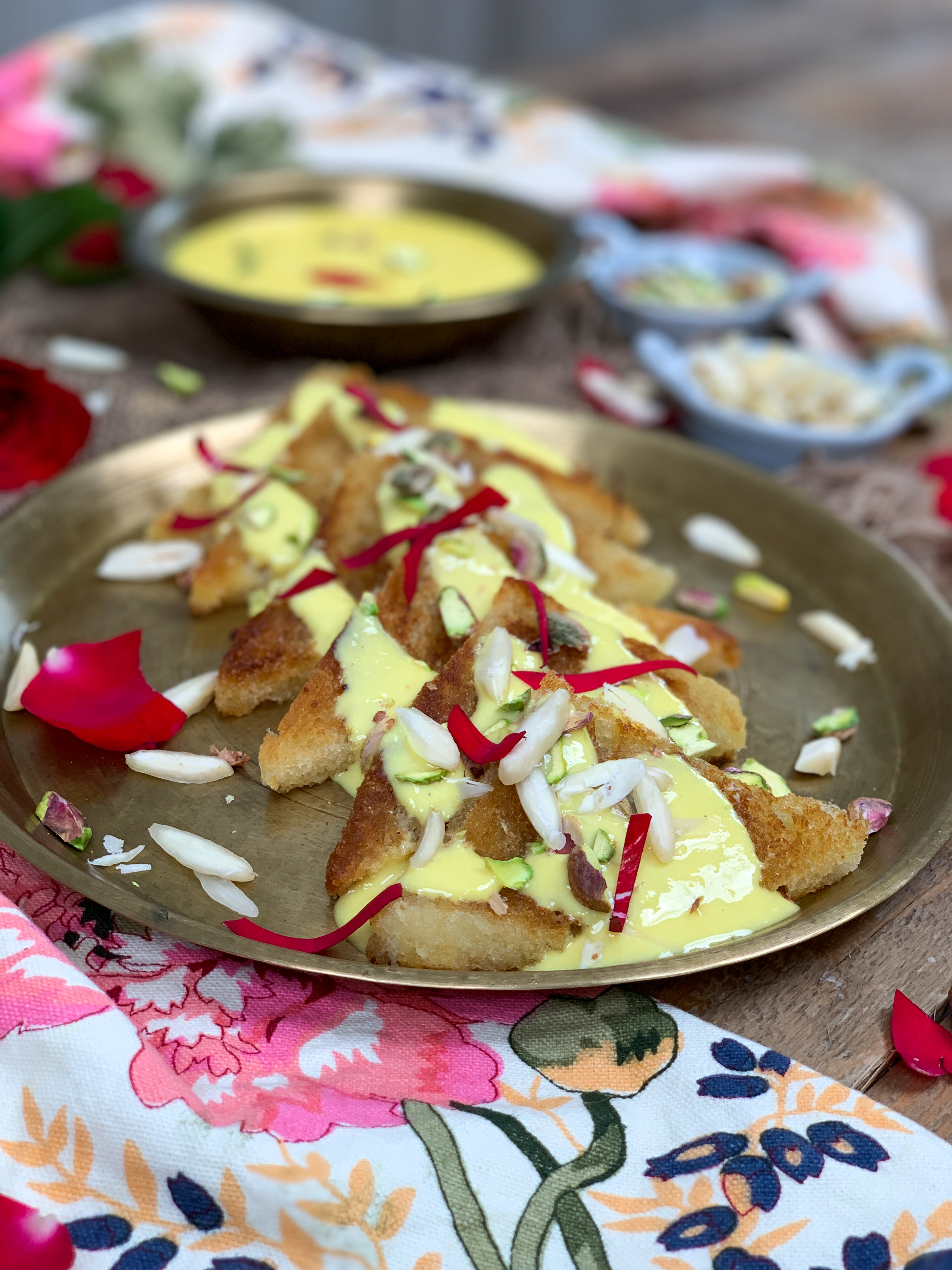 Shahi Tukda Recipe is a simple sweet dish made with bread, rabri, nuts and spices. The addition of spices like saffron and cardamom along with rose water, pistachios and almonds topped on top of a crispy toasted bread, brings out the rich flavors of the Shahi Tukda. It is a popular dessert recipe of Hyderabadi cuisine and Mughlai cuisine and is always a part of a regal meal especially during Iftar. 
The only time consuming step in making shahi tukda is making the rabri. You have to keep an eye on the simmering milk to ensure that you do not burn the milk and bring it to the right consistency.
 It it perfect to make for a large dinner party, or even for a festive occasion that you may be celebrating at home with friends and family. If you plan on serving shahi tukda for parties then make the rabri ahead and keep it refrigerated in an airtight container. Make the sugar syrup for the shahi tukda as well. Simple toast the bread in ghee at the time of serving. Dip the toasted bread in the sugar syrup and top it with the prepared rabdi and chopped nuts. Serve and wow your guests. Make sure you make extra helping of the Shahi Tukda because I am sure everyone will come back for a second helping. 
Serve Traditional Shahi Tukda Recipe – Hyderabadi Double Ka Meetha with a party meal of Nawabi Paneer Curry, Hyderabadi Vegetable Biryani and Tomato Onion Cucumber Raita.
You could also try some other Indian-styled desserts perfect for dinner parties like: 
Semiya Payasam and