Thai Pineapple Vegetarian Curry Recipe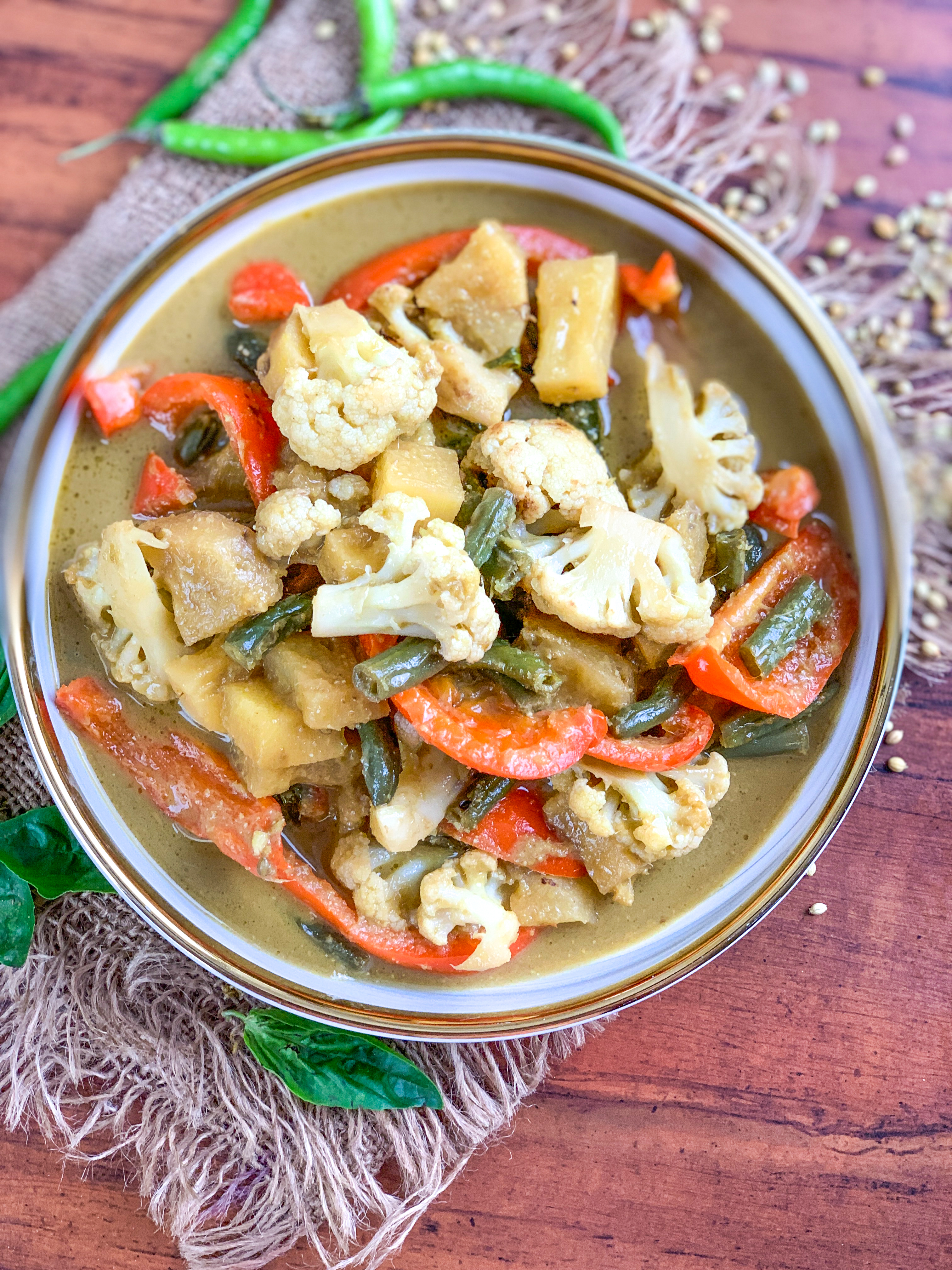 To begin making the Thai Pineapple curry; first add all the ingredients listed under *To grind into a small mixer grinder like the garlic, ginger, spring onions, lemongrass, coriander seeds and water and blend into a smooth paste and keep aside.
Next into a pressure cooker add the fresh cut pineapple chunks, salt to taste and some water and pressure cook for one whistle and release the pressure immediately. Keep aside.
Our next step is to roast the vegetables; heat oil in a wok or pan and first add the bell peppers and saute on medium heat for a minute.
Once the oil is preheated; add the cauliflower and the beans and sprinkle salt and saute the vegetables till they are lightly cooked. You can sprinkle some water and cover the pan to cook the vegetables faster.
Once they are done turn off the heat and keep the vegetables aside. 
Now to make the Thai Pineapple Vegetarian Curry, take a pan and add oil. Add the Thai Curry paste and saute for two minutes till the Thai curry paste is cooked and the aromas are released.
Add the coconut milk, brown sugar, and soy sauce and stir the curry.
Add the cooked vegetables, the pineapple, cauliflower, beans and bell peppers and stir the Thai Pineapple Vegetarian Curry. Add 1/2 cup of water, cover and simmer for 3 to 4 minutes. Check the salt and adjust to taste accordingly.
Once done, stir in torn basil leaves and turn off the heat. Transfer the Thai Pineapple Vegetarian Curry to a serving bowl and serve hot.
Serve Thai Pineapple Vegetarian Curry Recipe with Thai Jasmine Sticky Rice Recipe, sprinkled spring onions, along with Thai Raw Papaya Salad Recipe With Lemon Peanut & Honey Dressing and Thai Style Fried Bananas Recipe for a complete meal.