Blueberry Fool Recipe – Quick Dessert with Whipped Cream & Fresh Berries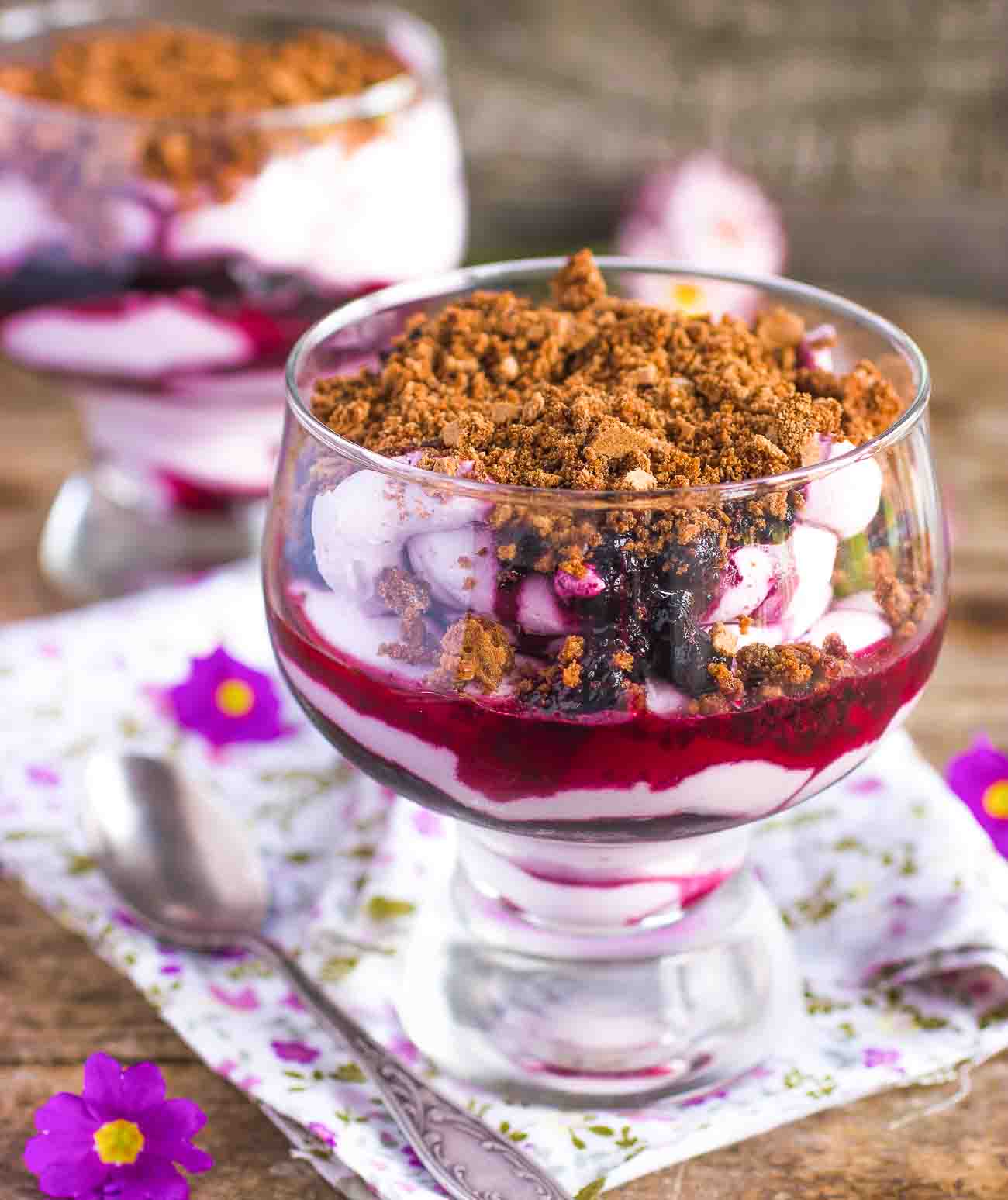 To begin making the Blueberries in Cream Dessert (The Fool), we will first make the blueberry sauce.
To make the blueberry sauce; place the blueberries, the sugar and salt into a saucepan over medium. Keep stirring until the blueberries begin to start softening and also the mixture becomes sauce-like.
Once you notice the blueberries soften, turn the heat to low and cook, stirring occasionally until the blueberries are completely soft. This would take about 5 minutes.
Stir in the orange zest, juice and liqueur. Turn off the heat and allow the blueberry sauce to cool completely. You will notice it will thicken as it cools down. You can also refrigerate this sauce until you prepare the whipped cream.
In a large mixing bowl or the bowl of the stand mixer, pour in the chilled heavy cream and icing sugar. Whisk until the cream becomes fluffy and thick. When you notice the cream has thickened, stop whisking to prevent the cream from breaking apart. Keep the cream aside.
Finally, keep the crumble the shortbread cookies or the wafers and keep aside.
Place 6 dessert bowls on the platform. We will spoon the cream and the blueberry sauce alternatively into the dessert bowls to form layers. Finally, top the Blueberry Fool Dessert with fresh blueberries and the shortbread crumbles.
Refrigerate the Blueberry Fool for about 4 to 5 hours before you are ready to serve it for a dessert.
Serve Blueberry Fool Recipe after a meal of Savoury Crepes with Za'atar Spiced Chicken Recipe or Chickpea & Oats Falafel Recipe.
Thanks to the Courtesy of :

https://www.archanaskitchen.com/blueberry-fool-recipe-quick-dessert-with-whipped-cream-fresh-berries