Pissaladiere Recipe – Provencal Onion Tart Recipe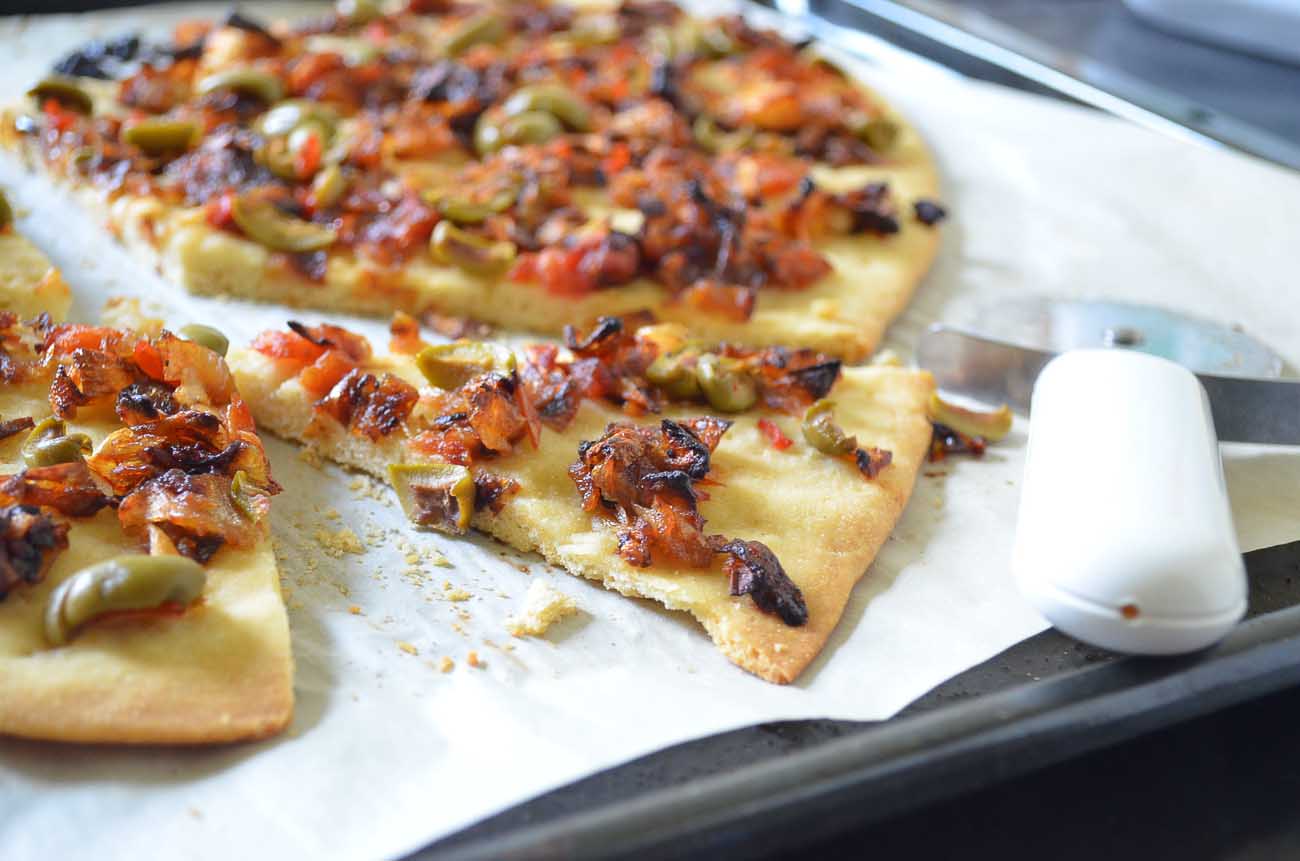 To begin making Pissaladiere Recipe, in a small bowl, stir in flaxseed powder with 3 tablespoons water and keep aside. It will thicken and fluff up in 3 minutes.
In a bowl of a stand mixer fitted with a dough hook attachment, combine the yeast and flour. Add the flax seeds mixture, oil and 1/4 cup of water. Beat on low speed until the dough forms a ball and comes clean from the sides of the bowl. This might take 5 to 8 minutes.
Put the dough into a greased bowl and cover with plastic wrap. Let the dough rest for 40 to 45 minutes or until  double in size.
While the dough is proofing we will make the caramelized onion topping.
In a large sauté pan, heat the oil over low heat. Add the garlic and sauté for few seconds. Add the onions and let it slowly cook until tender and lightly caramelized. You don't want the onion to burn, but be sweet and tender.
Add the chopped tomatoes and cook until all liquid is evaporated. Season with thyme, salt and pepper and turn off the heat. Cool down to room temperature.
Preheat the oven to 200 C.
Line a baking sheet with parchment paper and keep aside.
The next step is to make the Pissaladiere.  On a floured surface, roll the dough to a circle about 9 inches in diameter.
Place this on the baking sheet. Top with the onion mixture and olives. Let it rest for 20 minutes before baking.
Bake for about 30 minutes or until the crust is golden brown and the topping looks bubbly.
Once done, cool slightly, slice the Pissaladiere into wedges and serve.
Serve Pissaladiere as an appetizer with Cauliflower Au Gratin Recipe (French Style Cauliflower & Cheese Bake).