Bean Spinach And Corn Quesadilla Recipe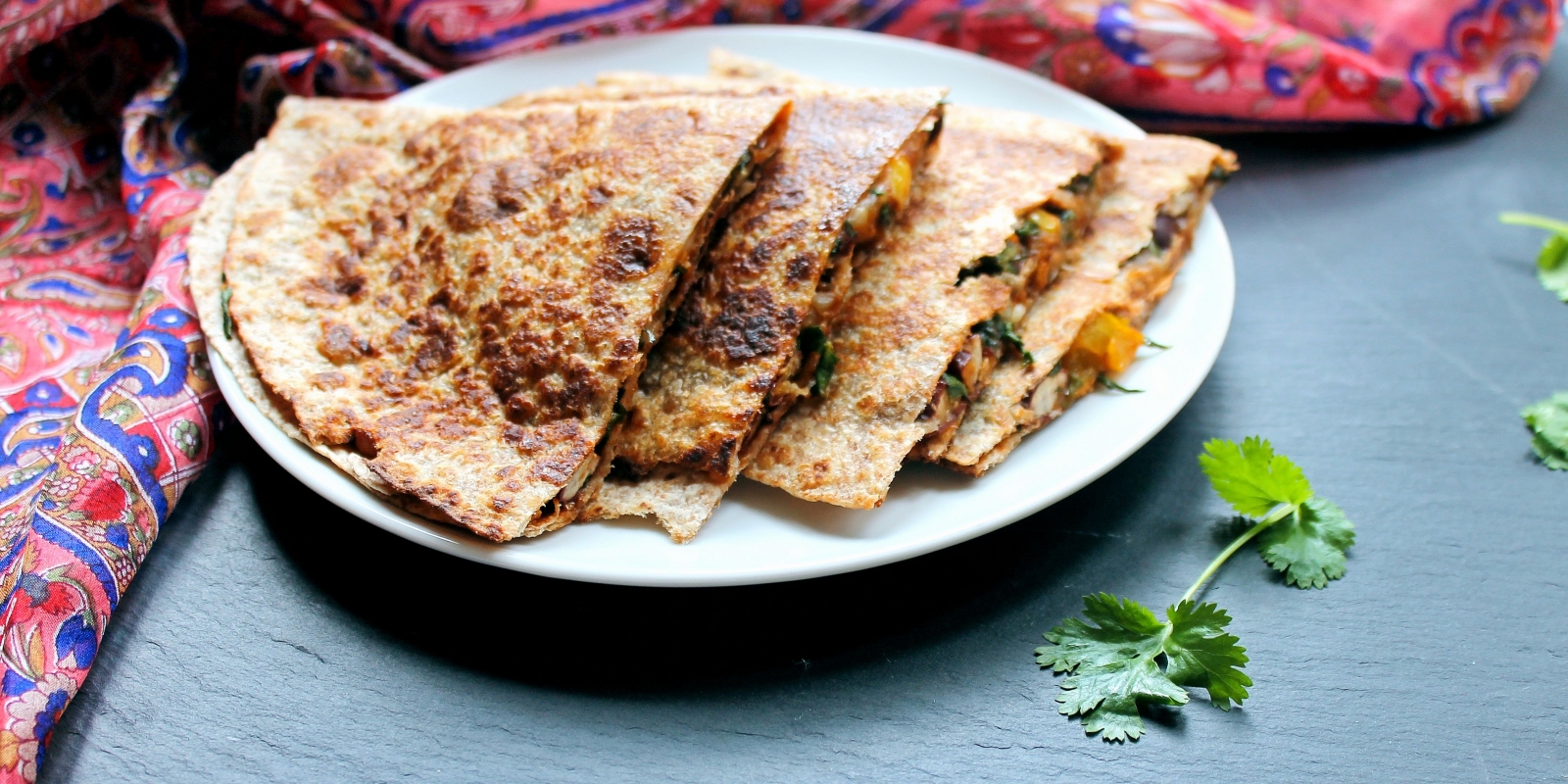 To begin making the Bean Spinach And Corn Quesadilla Recipe, first get all your ingredients ready. You can used canned red beans or click here to see the recipe of how to make refried beans at home. Keep this aside.
In a pan, heat oil, add chopped yellow pepper, saute and cook for a minute on medium heat until soft and tender. 
Once the peppers are cooked, add the spinach and corn and cook until the spinach wilts. Add the refried beans mixture and stir well to combine. 
Finally add the paprika, mixed herbs and salt to taste and  mix well to combine. Check the salt and spice levels and adjust to suit your taste. Turn off the heat and stir in the chopped coriander leaves.
The filling is now ready for the Bean & Spinach Quesadilla.
Our next step is to grill the Quesadillas. Preheat a cast iron skillet while we fill and prepare the quesadillas.
Spread butter on one side of the large tortilla. Place the buttered side down on the skillet and cook on medium heat.
Spoon over some refried bean and spinach filling over one-half of the tortilla, leaving about 1/2 an inch space from the edge. Sprinkle some grated cheese over this filling.
Fold over the empty half of the tortilla, covering the filling, making a semi-circular quesadilla.
Heat this side until the bottom-surface develops deep golden-brown spots and the cheese melts. This would take about two to three minutes. Press down the Quesadilla so the cheese melts.
Once the bottom has turned golden and crisp, flip the Quesadilla over carefully and allow the other side to brown up. Once done, transfer to the serving plate.
Using a pizza cutter or a knife, cut to form triangular portions of the quesadilla.
Serve the Bean Spinach And Corn Quesadilla along with Spicy Mexican Salsa, for a weeknight dinner, followed by a dessert of Greek Yogurt Chocolate Mousse Recipe.