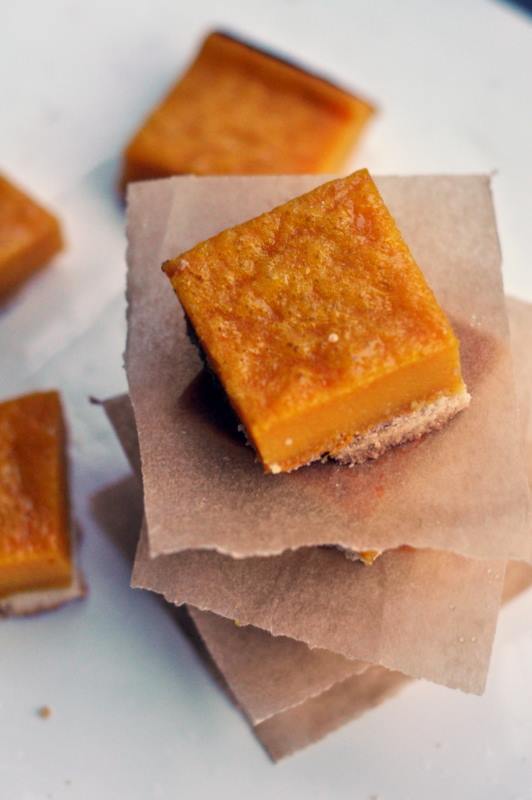 To begin making the Mango & Lemon Bar Recipe, heat the butter in a heavy bottomed pan, on medium heat, while constantly swirling it, until it turns a deep golden/brown colour.
Take care to constantly move the butter around and keep the heat on medium so that the butter does not burn.
Cool the butter and chill it for 30 minutes in the freezer until it solidified again. Cut the butter into 8-10 squares.
Preheat your oven at 180 degrees C, while you prepare the rest of the ingredients.
In a mixing bowl, measure out the flour. Add the sugar and salt to it and mix. Place the cubed, cold butter into the flour mixture and rub it into the flour using your fingers till it resembles bread crumbs.
You may alternatively do this in a food processor, by blending together the flour, sugar and salt and then adding in butter and pulsing it a couple of times until the butter is completely incorporated.
Once the butter is incorporated into the flour mixture, transfer the mixture into a greased pan layered with parchment paper. Press the flour mixture firmly into the pan, into an even layer, using your fingers.
Next, place the tray in the oven and bake the crust/base for about 15 minutes at 180 C, until the edges set and the crust looks slightly browned.
While the crust is baking, prepare the filling. To do this, first whisk the sugar and flour together. Then beat in the eggs one by one, followed by the mango puree and lemon juice. Mix everything well until just incorporated.
When the crust is baked, take it out of the oven and pour the mango and lemon filling over the hot baked base.
Reduce the temperature of the oven to 160 C and return the pan to oven. This time around, bake it for 22-24 minutes, until the filling is set.
Take the lemon bars out of the oven and set it aside to cool completely. You may also do this by placing the pan in the fridge. Then, using a damp knife, slice baked dish into bars, so you get even edges and serve them chilled.
Serve the Mango & Lemon Bars for your next Tea party along with Potato Basil Fritters Recipe and Masala Chai  or to pack as a special treat in your child's snack box.