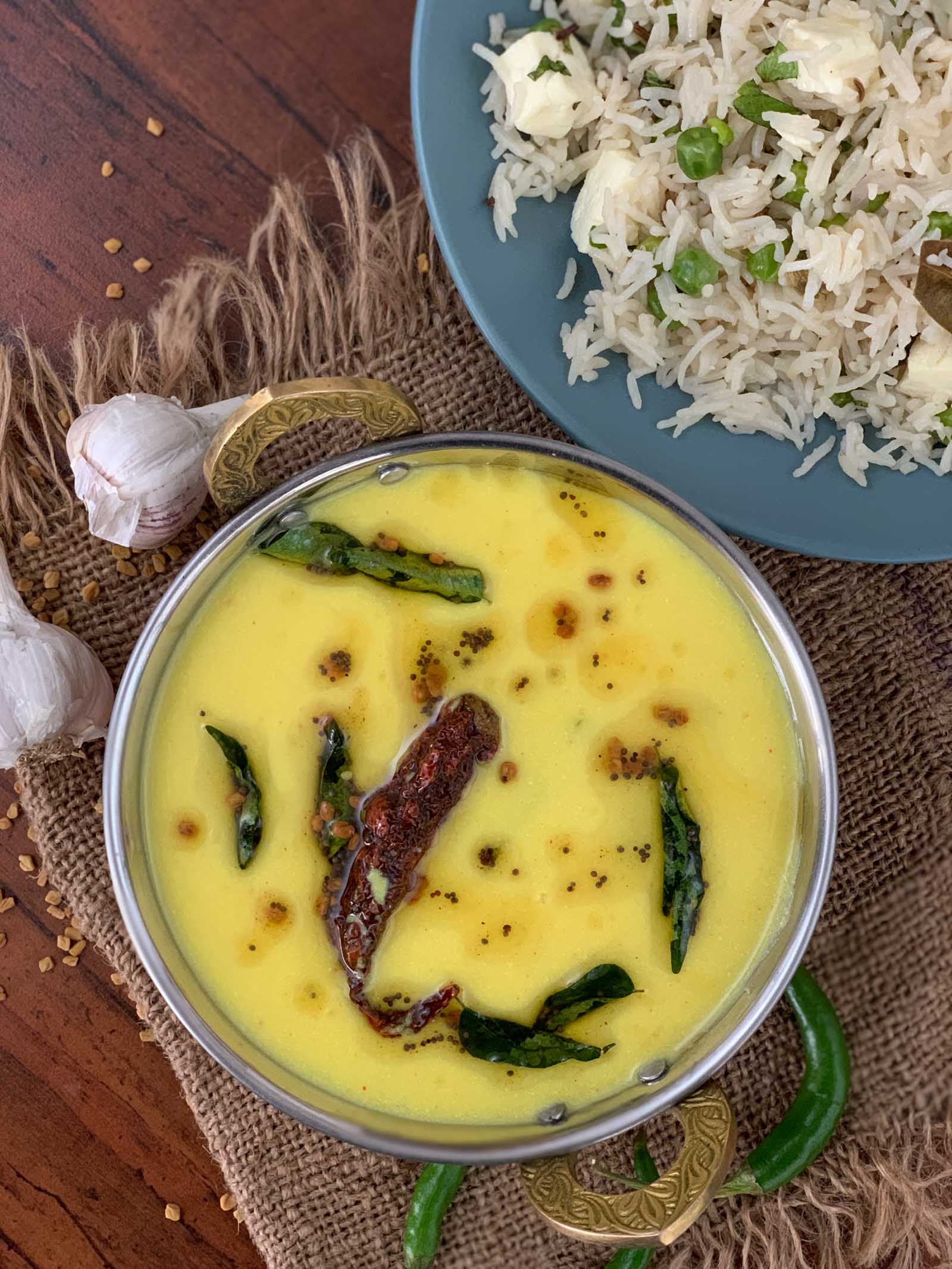 To begin making the Rajasthani Kadhi recipe, first make a coarse paste with garlic and green chilli by crushing them in a mortar and pestle. 
After crushing it well, transfer it to a bowl and set aside.  In a saucepan, combine the yogurt and gram flour, and whisk until smooth. 
Add water and continue to whisk the kadhi mixture. 
Whisk this kadhi mixture vigorously to ensure there are no lumps. This is the base of the kadhi. 
To the buttermilk – gram flour mixture, add red chilli powder, turmeric powder and salt. Mix well to combine. 
Pour the Rajasthani Kadhi into a saucepan and place it over medium heat. Keep whisking continuously and bring the kadhi to a brisk boil. After a few minutes of boiling add the freshly crushed garlic and green chilli. 
Mix well and turn the heat to low and simmer the Rajasthani kadhi for about 12-15 minutes. Keep whisking the khadi as it is boiling – it will prevent curdling and also give a smooth looking kadhi.
To make the tadka for the Rajasthani Kadhi Recipe; heat ghee in a tadka pan over medium heat; add mustard seeds, fenugreek seeds and allow it to crackle.
Once the seeds crackle add the asafoetida, dry red chillies and curry leaves and stir fry for a few seconds. Turn off the heat. 
Add this tadka to the Rajasthani kadhi, and continue to boil for about 4-5 minutes.
Once it is done, turn off the heat. Transfer the Rajasthani Kadhi to a serving bowl and serve hot.
Serve Rajasthani Kadhi along with Bajre Ki Roti, Rajasthani Kaddu Aur Aloo Ki Sabzi and Masala Chaas for a weekday lunch.