Roasted Carrot Hummus Falafel Wrap Recipe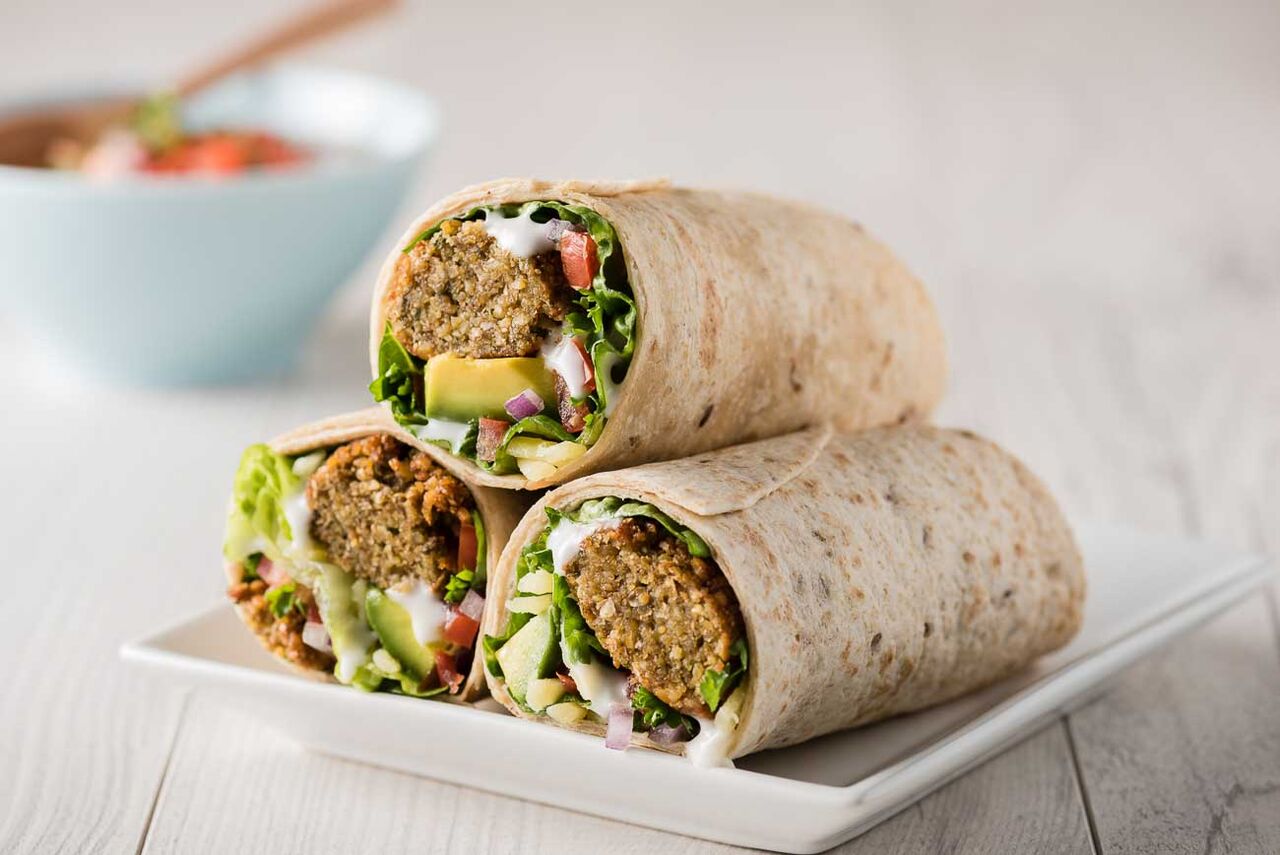 To begin the preparation of Roasted Carrot Hummus Falafel Wrap Recipe, first make the carrot hummus.
For this heat a teaspoon of oil in a pan, add the diced carrots and roast them until cooked through and have a roasted taste.Turn off heat and allow the carrots to cool.
Blend the sesame seeds into a smooth paste, by adding a little water. Add the remaining ingredients into the blender including the roasted carrots and blend to a smooth hummus.
Give it a taste and adjust the seasonings accordingly. Keep aside or refrigerate until ready to use.
Next make the Falafel, for this combine all the falafel ingredients, except the oil and oats in a food processor and blend to make a coarse thick paste.
Add the peppy tomato oats into the falafel batter and divide the falafel batter into small portions of the size of a Ping-Pong ball and flatten them slightly.
Heat a Kuzhi Paniyaram Pan, add 1/2 teaspoon oil into each cavity and place the shaped falafel into the cavities and pan fry them until it is crisp and browned on both sides.
Add few more drops of oil when you flip over to fry them on the other side. This will help in getting the even color for the falafels.
To begin making the Roasted Carrot Hummus Falafel Wrap, we will first have to get all the ingredients ready.
Once you have all the ingredients ready; toss the tomatoes and onions in salt, pepper.
Place the tortilla on a flat surface.
Place the lettuce leaves on the tortillas, next spread some hummus in the center, and add the hot falafel. Next, top it with tomatoes, onions, avocado and Tabasco sauce and fold into a wrap. 
Your healthy and delicious Roasted Carrot Hummus Falafel Wrap is now ready to be served.
Serve the Roasted Carrot Hummus Falafel Wrap Recipe along with Vegetarian Mexican Tacos With Baked Beans, Roasted Peppers and Salad and glass of Plum Ginger Juice Recipe.