Chocolate And Salted Caramel Tart Recipe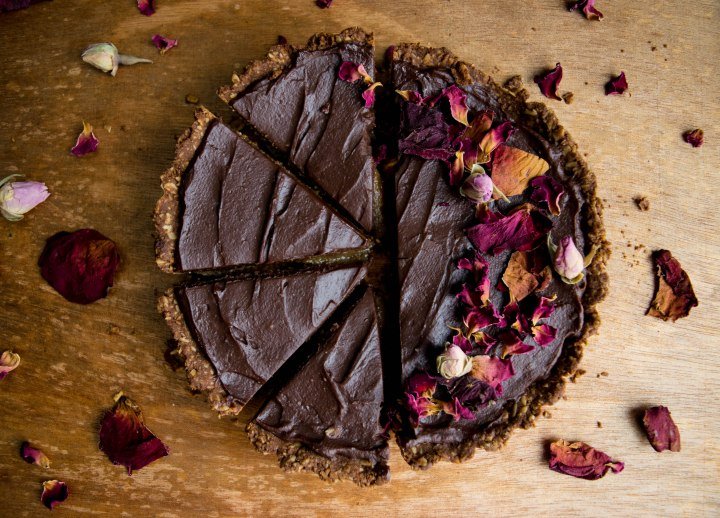 To begin the preparation of Chocolate And Salted Caramel Tart, first preheat oven to 180C.
In a food processor/mixer, add oats, whole wheat flour and cocoa powder; pulse till the oats are coarsely ground. Add honey and butter or coconut oil and pulse again till everything is mixed together and resembles wet sand.
Press this mixture (I used my fingers) into the bottom and up the sides of a 9 inch round tart tin.
Bake in the preheated oven for 20-25 minutes.
Heat brown sugar and butter in a medium pan over medium heat, whisking constantly. Once the mixture starts to bubble, cook for a minute. Remove from the heat and slowly whisk in the cream until smooth. Add 1/4 teaspoon salt and stir to mix. Let the caramel cool, taste and add more salt if required.
Place chocolate in a heat proof bowl. Heat the cream till almost boiling and add it to the chocolate. Let sit for 2-3 minutes and then stir gently till you have a smooth ganache. If any chocolate pieces remain, place bowl in the microwave for 20-30 seconds, till all the chocolate has melted. Let the ganache cool before using.
Pour the caramel into the baked and cooled tart crust, refrigerate for 30 minutes to let the caramel set.
Then pour the chocolate ganache on top and let it set; store covered in the refrigerator.
Garnish with dried rose petals.
Serve the Chocolate And Salted Caramel Tart as a delicious dessert at your next dinner party. You can serve it after a meal of  Schezwan Noodle Sandwich Recipe or American Chop Suey Recipe.
Thanks to the Courtesy of :

https://www.archanaskitchen.com/chocolate-and-salted-caramel-tart-recipe