Easy Homemade Sugar Free Dates Flavored Yogurt Recipe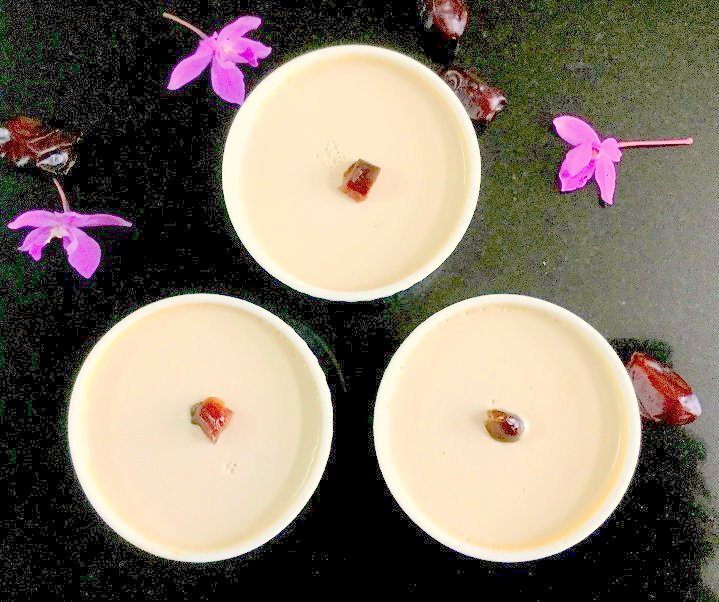 To begin making Easy Homemade Sugar Free Dates Flavored Yogurt Recipe, blend dates with just enough milk to make a fine paste.
Run the date paste through a sieve with small holes to remove all the skin. Keep the smooth date paste aside.
Heat the rest of the milk in a saucepan; stir in powdered milk and mix well.
Reduce heat and stir in the date paste; whisk until well incorporated and smooth. Heat the whole mixture until it is hot but not boiling.
Remove from heat and let cool until it is lukewarm .you should be able to hold a clean finger in it for at least 10 seconds without feeling uncomfortable. Do not let it cool too much.
Once it reaches that temperature, gently stir in the starter culture; plain yogurt and whisk until smooth.
Gently decant the date flavored mixture into containers in which you want the yogurt to set.
There are various ways you can incubate the mixture to form yogurt. I normally place the bowls in an insulated container which has a lid and leave it aside for 6 to 8 hours or until the yogurt has set completely; it all depends upon the culture used, the temperature of the yogurt, and whether you want it sweet or sour.
If you have an oven, you can turn the oven on and heat it until it reaches 120 degrees F; turn it off, place the yogurt container in the oven, close the door but leave the oven light on.
Incubate for 4 to 6 hours or more if you want a tarter yogurt. Check in between to see if it has set.
Once set, refrigerate until serving time. Enjoy sugar free date yogurt topped with more dates!
Serve Easy Homemade Sugar Free Dates Flavored Yogurt Recipe as a cheat dessert after a dinner like Paneer Pulao With Green Peas Recipe, Yellow Pumpkin Dal Recipe and Kachumber Salad Recipe With Cucumber, Onion & Tomatoes.