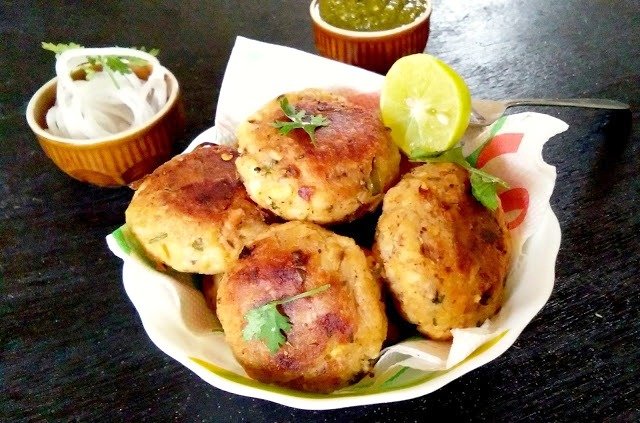 To begin making the Raw Banana Tikkis, first remove the seeds from the dates and finely chop them. Next, add finely chopped the cashew nuts, ginger and green chillies and dates in a bowl along with some salt and keep aside.  
Place the raw bananas in a pot of boiling water for 15 minutes. After 15 minutes, cool the bananas completely, peel the skin and grate the bananas into a plate and keep aside. 
Place a pan on low heat and add a teaspoon of ghee. Once the ghee is warm, add cumin seeds. 
Once the cumin seeds crackle, add finely chopped green chillies, ginger and onions and saute until the onions are browned. 
Once the onions are browned, add the grated banana, salt, red chilli powder, dry mango powder, lemon juice, gram flour (besan), clove powder, cinnamon powder and elaichi powder. 
Mix all the ingredients until well combined. Stir the mixture for a few more minutes and turn off the heat. 
Once the raw banana mixture is cool, add in the chopped coriander leaves and mix well. 
Divide the raw banana mixture into equal portions.
Take a portion of the  banana mixture in your palm and flatten it our a little in circular shape.Make a cavity in the center and place a small portion of the dates filling inside it. Cover the filling completely and seal from all sides.
Prepare the remaining  tikkis in this manner until all the raw banana mixture is used up. 
Place a skillet on low-medium heat and add a tablespoon of ghee on it. Place the prepared stuffed kebabs on the skillet and shallow fry the tikkis on both sides until they are golden brown. 
The process of shallow frying each tikki will take at least 8 to 10 minutes. 
Take the Raw Banana Tikkis off the flame and they are ready to be served. 
Serve Raw Banana Tikkis along with Dhaniya Pudina Chutney and a cup of Adrak Chai for a light and healthy evening snack.