Office Lunch Box Menu Plan- Kala Desi Chana, Kashmiri Saag , Chilli Paneer Quesadilla & More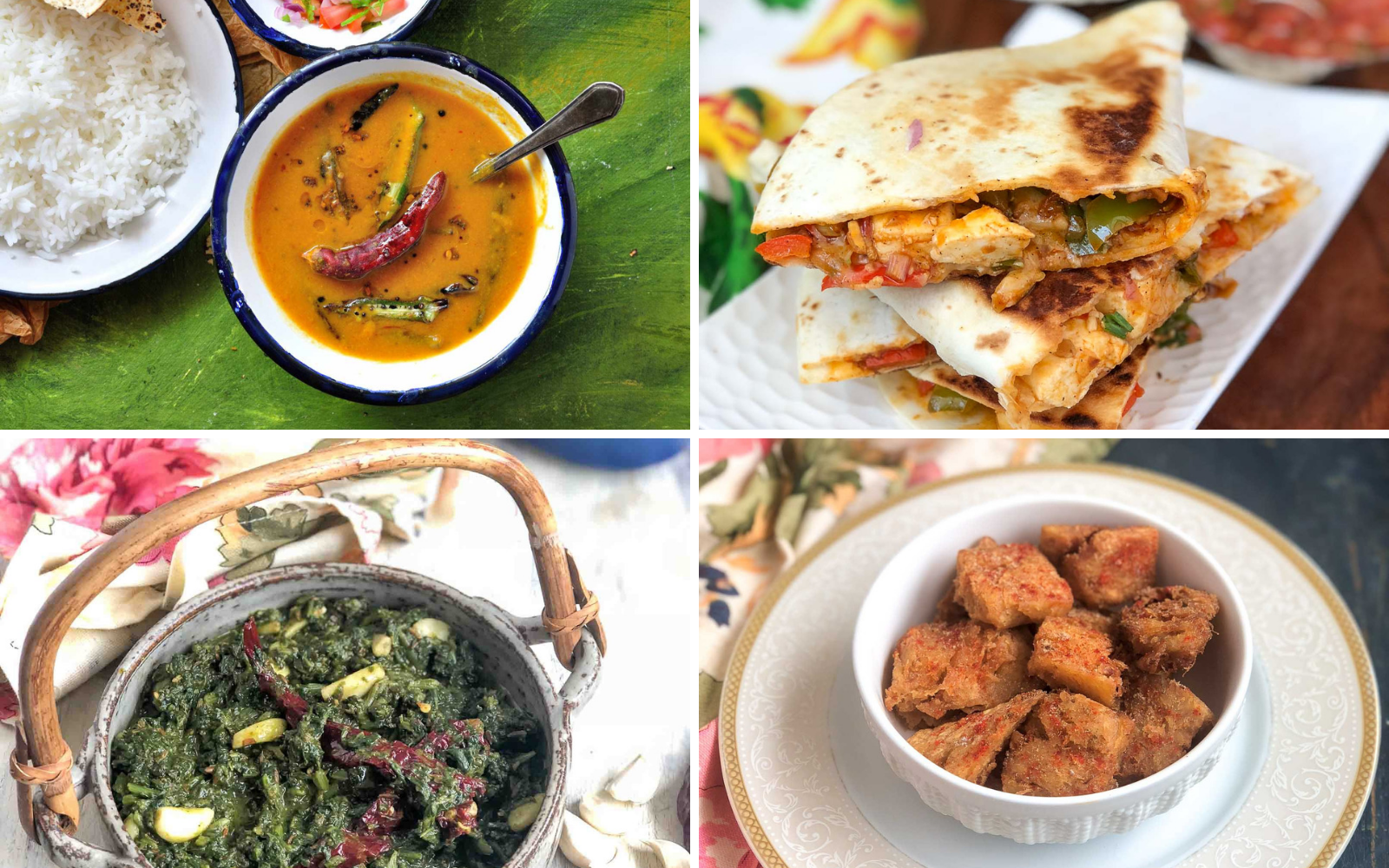 Here is a multi cuisine Lunch box menu plan which has Kala Desi Chana with Rice and Raita for Monday, Kashmiri Saag, Kashmiri Dahi Baingan with Phulka for Tuesday, Chilli Paneer Quesadilla with Banana Orange & Spinach Smoothie and Cucumber Pineapple Raw Mango Salad for Wednesday, Sindhi Kadhi, Suran Ja Tuk and Rice on Thursday, Pasta in Roasted Carrot & Red Pepper Sauce, Spinach and Banana Smoothie With Chia Seeds and Pineapple Carpaccio for Friday.
It is so important to try various cuisines and yet at the same time have a balanced diet which has fiber, protein, vitamins and minerals. We have included a Mexican fusion quesadilla with a delicious filling of chilli paneer. Quesadillas are easy to make and with a little bit of planning they can be assembles in minutes.
We have also added a smoothies in this menu plan. Smoothies help to keep you hydrated and also gives you the added nutrition required for your body. Along with a smoothies pack fresh salads to beat the summer heat and keep you full for longer. 
Planning everyday meals does need prior preparation and when you have a menu laid out in front of you, then putting it together just becomes a breeze. Shop your groceries and stock them for the week and use these ideas and recipes which will help you in making your mornings go smoother in the kitchen. We have also included some prep tips that you can use along for each menu. Happy cooking!
Here are some healthy snack ideas for hungry spells in between meals.
Snack Ideas For 5 Days
Monday
Kala Chana Curry, Rice & Salad
Kala Chana or black chickpeas are highly nutritious. This gravy is delicious with North Indian flavours and goes well with rice or roti. A one pot meal it can be made easily in the mornings. Pack it with sliced salad and even a bowl of curd if you like. 
Tuesday
Kashmiri Dahi Baingan, Saag & Phulka
A Kashmiri meal which is satisfying and fulfilling and is great to be packed into the lunch boxes. Dahi baingan is easy to make and is a yummy curd based gravy. Kashmiri saag is an iron rich food make of spinach leaves. Pick the spinach leaves  and keep them refrigerated in an airtight container.  Make the dough for the phulkas and keep it in the fridge as well the previous night.
Wednesday
Chilli Paneer Quesadilla, Smoothie & Salad
Chilli Paneer Quesadilla Recipe is a fusion dish which is delicious and inviting. The filling takes just a few minutes to make and you can make these with either store bought or homemade tortillas. Pack it with nutrition filled Banana Orange & Spinach Smoothie and a salad for a satisfying lunch.  
Thursday
Sindhi Kadhi, Fried Yam & Rice
SIndhi Kadhi is made of toor dal and bhindi. It goes great with rice. Some prep work that you can do for this meal is that wash and clean the bhindi and keep in the fridge the previous night. For the Suran Ja Tuk pressure cook and keep yam in the fridge and fry them in the morning. 
Friday
Pasta, Pineapple Carpaccio & Smoothie
Pasta in Roasted Carrot & Red Pepper Sauce is a flavorful pasta recipe which is loaded with vitamins. You can cook the pasta until it is cooked and is al dente and store it in the fridge the previous night. Make fresh sauce in the morning and toss the pasta in it. When packing pasta for lunch box make sure you add extra sauce as pasta tends to dry up over time. Pack it with Pineapple Carpaccio  and Spinach and Banana Smoothie With Chia Seeds. Pick and keep spinach leaves refrigerated in airtight containers.