Pear's Gourmet Red Chile Queso Peanuts Review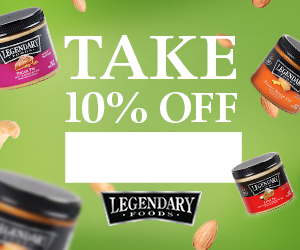 Another product that caught my eye while I was shopping was a bag of Pear's Gourmet Red Chile Queso Flavored Peanuts
. I have never heard of this company and I like different flavored peanuts and I love cheese and anything with Mexican flavor so I was sure I was going to like these.
The macros are:
Servings: 1 oz.
Calories: 160
Fat: 14 grams
Carbs: 5 grams
Fiber: 2 grams
Sugars: 2 grams
Protein: 7 grams
There is no added sugar in this product, what you see comes from the milk and the natural sugar from the peanuts.
These peanuts were delicious! Like hide them deep in the cabinet delicious! Spicy but not overwhelming and the cheese flavor really came through. I loved them and will be getting some more shortly! They make a great keto snack.
Other peanuts I like are Legendary Foods Buffalo Blue Wing Seasoned Almonds and Legendary Foods Cheddar Bacon Almonds Get 10% off any Legendary Foods order using code KETOKO at checkout.
Keto OS – Ketone Supplements to Help You Lose Fat
Idealfit Supplements – 10% off a Purchase
Knockedoutbyketo – Follow Me on Instagram
Gauge Girl Training – Meal Planning, Training and Coaching Service
Achievement – Get Paid to Get Healthy
Get Paid to Walk with Sweatcoin
$3 off a 6 bar sample pack from Built Bar use code KETOKO3
10% off protein bars from Built Bar use code KETOKO10
Built Bar – Protein Bars 20% off
Eat Nui/Keto Kookie – 10% off your first Purchase use code KETOKO
Legendary Foods – Keto friendly Nut Butters and Snacks 10% off use code KETOKO
AlternaSweet Keto Friendly Ketchups and BBQ Sauces 5% off using code KETOKO
Smartbaking Company – 10% off Keto Baked Goods use code KETOKO
Keto Logic – Keto Crisps, Ketones, Supplements and MCT Oil
Cali'Flour Foods – Keto Friendly Pizza Crust, Crackers and Pasta
Ketologie – Keto Shakes, Collagen and Bone Broth
Keto and Co. – Keto Baking Mixes, Flatbreads and Riced Cauliflower
Keto Delivered – Monthly Keto Subscription Box of 5-7 different products
Keto One – Keto Meal Replacement Shakes
Sated – Keto Meal Replacement Shakes
Real Ketones – Ketones, Meal Replacers and Vitamins use code KETOKO10
Bulletproof Coffee – Keto friendly Coffee Grounds, Whole beans, Pods, MCT Oil, Collagen, Proteins, Bars and Fatwaters
15 Day Free Streaming P.volve Online Workout Trial 
SeasonsWREATHingz – Handmade wreaths, seasonal decor and digital photography
Nature, Landscape and National Park Photography
The Irish Shop – home goods featuring Irish pictures
Travel Postcards – Beautiful Travel themed Digital Photography
WhiteH20 – Whitewater and River themed goods
Get $10 for Joining FabFitFun – Subscription box if beauty, health and fitness items
Ebates – Get $15 to Spend and Earn Cash Back on your Purchases
Ibotta App – Earn Cash Back on your Grocery Shopping
Shopkick App – Earn Credit toward various Gift Cards for entering stores and scanning items
Poshmark App – $5 off Your 1st Order, score new/like new clothes at a discount
Find Unique Gifts, T-shirts, and More at CafePress