Umm Ali Recipe – Egyptian Dessert Recipe With Puff Pastry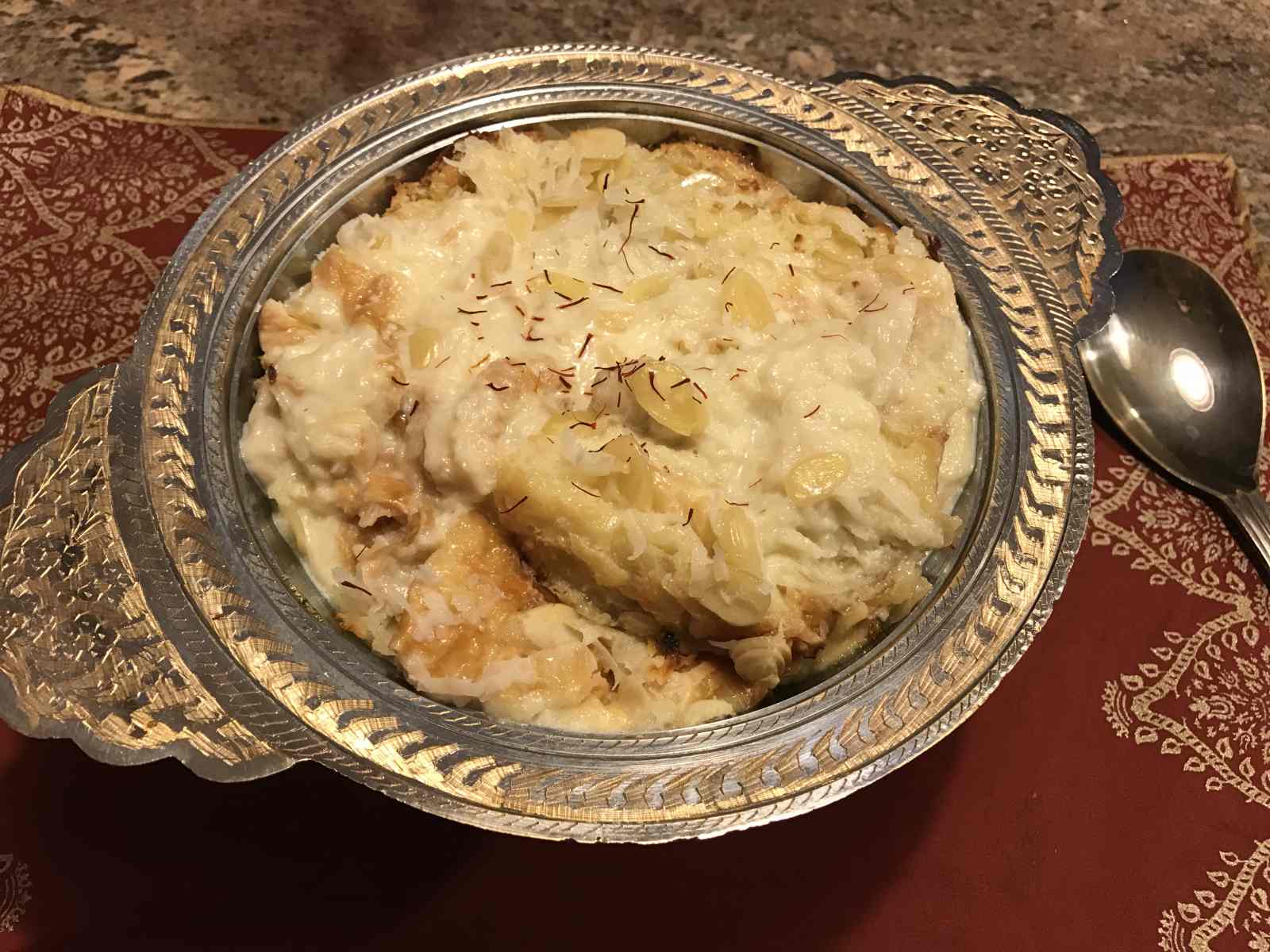 To begin making Umm Ali Recipe – Egyptian Dessert Recipe With Puff Pastry, in a large saucepan, add half of the condensed milk, milk, 1/4 cup sugar and keep stirring till the sugar is dissolved.
Mix all the nuts and desiccated coconut to the saucepan, mix well till combined and set it aside to cool a bit.
Preheat oven for about 10 minutes at 350 F. Meanwhile, grease a square shaped baking dish then line up torn puff pastry on it.
Bake at same temperature for 18 minutes or till all the puff pastry gets all puffed up in the baking dish.
Pour the warm milk, condensed milk, sugar, desiccated coconut and nuts on the top. Let it soak well.
If using croissants directly, then you need not bake the croissants like puff pastry. Instead, you can grease the baking tray, arrange the croissants, and pour in the milk mixture on it and let it soak up well for a couple of minutes.
Meanwhile, in another bowl, add cream, remaining condensed milk, saffron strands and sugar.
Now pour it on the croissant mix/ or the baked puff pastry on top. Garnish with remaining nuts and saffron.
Bake Umm Ali Recipe on 350 F for 20 minutes or till golden color on top. (Keep checking till done.)
The mixture is a thick sweet recipe and hence, you can scoop out a portion from it to the serving bowl. You can serve Umm Ali Recipe when it is still warm as a dessert after a one pot meal of Egyptian Koshari Recipe for dinner.
Thanks to the Courtesy of :

https://www.archanaskitchen.com/umm-ali-recipe-egyptian-dessert-recipe-with-puff-pastry