Ruote Pasta & Eggplant Gratin Recipe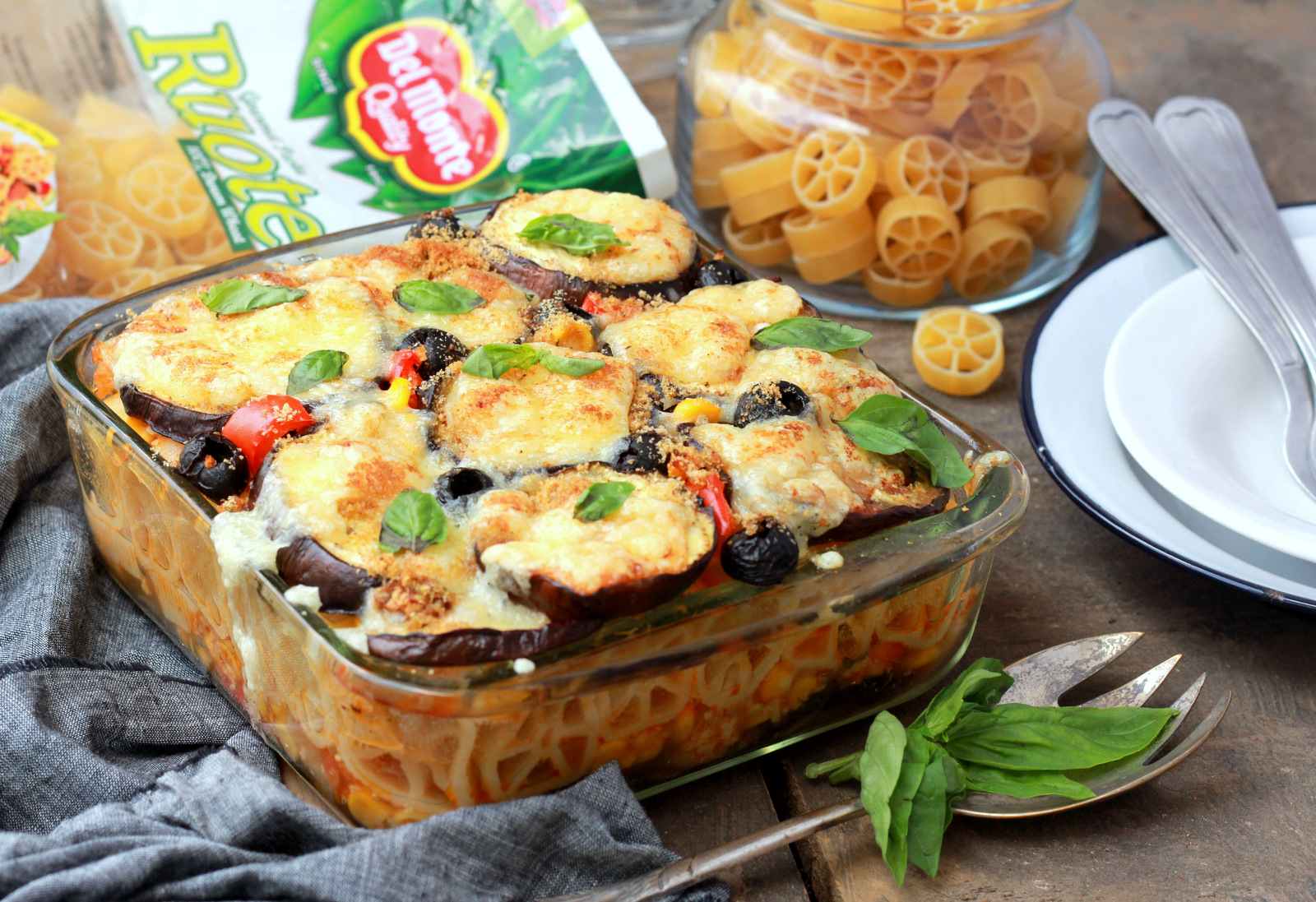 To begin with the Ruote Pasta & Eggplant Gratin Recipe, preheat the oven to 200 deg Celcius.
Now boil the pasta in a saucepan of salted water for 7 minutes. Do not overcook. Drain the water and rinse the pasta under cold water. Keep aside.
Sprinkle some salt on the eggplant slices and keep aside for 10 minutes. Wash the slices and pat dry using a kitchen towel.
Grill the eggplant on a hot grill pan till brown marks appear on both sides and the eggplants become's a little soft. Sprinkle some salt and pepper over them. Keep aside.
In a wok add 2 tablespoon olive oil.
Add the onion and garlic and sauté till the onion turns translucent.
Add the bell pepper and stir-fry for a minute.
Add the corn kernels, soy granules, salt as required and mix well. Cook till all the water evaporates.
Take it off the heat and mix in the pasta sauce and chili flakes.
Add the herbs, reserving some for the garnish.
Place some eggplant slices at the base of the baking dish, such that it is covered.
Spoon over some of the vegetable sauce and spread evenly.
Top with a 1-2 tablespoon of the bread crumbs and half of the cheese.
Spread the pasta evenly over it. Spread another layer of the vegetable sauce.
Top with the left over eggplant slices and place the olives in between the eggplant slices.
Sprinkle the leftover bread crumbs and cheese over them.
Bake for about 15-20 minutes till the cheese melts.
Garnish with the herbs and serve your Ruote Pasta & Eggplant Gratin Recipe. 
Serve the Ruote Pasta & Eggplant Gratin Recipe along with Couscous Salad with Raw Mangoes or with a slice of Quick Roasted Vegetable Bread Pizza to make complete dinner.
Thanks to the Courtesy of :

https://www.archanaskitchen.com/ruote-pasta-eggplant-gratin-recipe