Savory, Scrumptious Soups have Serious Healing powers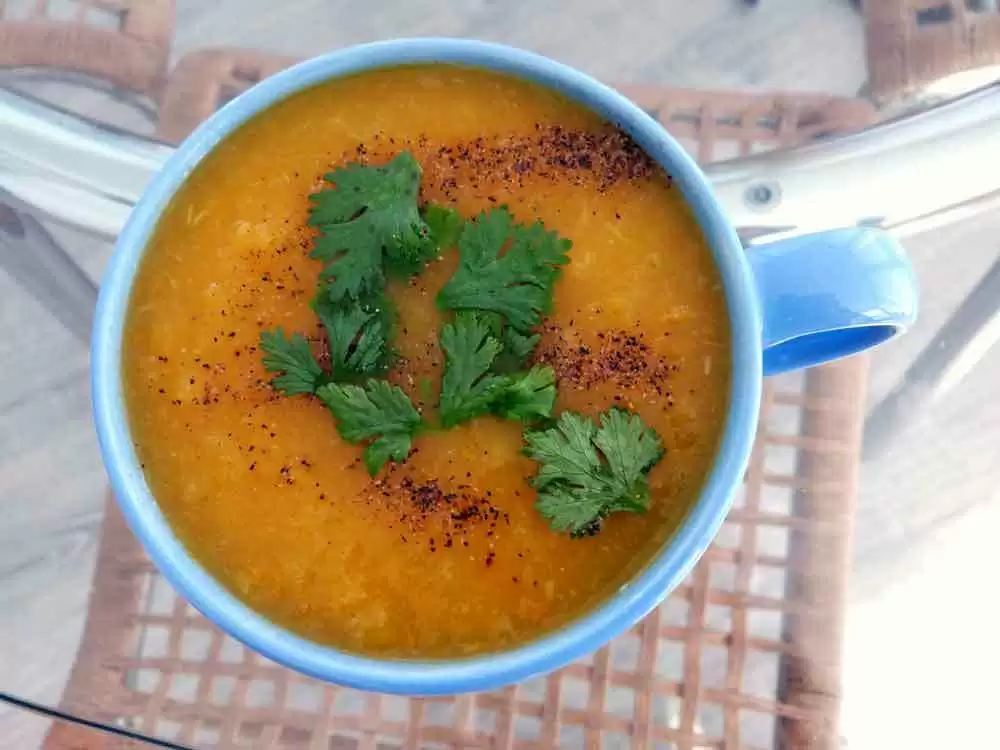 Celiac.com 11/08/2019 – On a cold winter day, nothing will warm you up quicker than sipping a hot bowl of soup.  Served with a side salad or a half sandwich, you can make a meal out of soup.
For generations, mothers and grandmothers have fed chicken soup to family members suffering from colds because of its alleged healing powers… or are the healing powers in soup actually based in fact?  
Dr. Stephen Rennard, MD, is a scientist at the University of Nebraska Medical Center.  He decided to check out his wife's homemade chicken soup.  He was surprised to find that the broth, when added to white blood cells, "…slows the neutrophils"… or in our language, it clears a stuffy nose by lessening the amount of inflammation in the nasal passages.  The amino acid in chicken is similar to the drug doctors prescribe for patients with bronchitis.  The acid in the broth thins the mucus in lungs.  So chicken soup actually DOES have medicinal benefits.
Most homemade soups are good for us because natural ingredients are simmered in a broth, so none of the nutrients are lost.  The volume of soup fills you up without a lot of calories (assuming we're not talking about lobster bisque made with cream!).  Many vegetable-based soups are low in fat, saturated fat, cholesterol, and carbohydrates, though they may be high in sodium if you are too liberal with the salt shaker.  Not only is soup nourishing, warm and satisfying, but the variety of soups is almost endless.
A good soup starts with a good broth or stock.  Broth is usually made with pieces of actual meat.  Stock, on the other hand, is made by boiling bones with just a little meat trim, so it's not as rich as broth.  Just to confuse matters more, there is also consommé.  Consommé is stock, but the bones used to make the stock are roasted first, then simmered.  Consommé is a clear, reduced stock.  
There are gluten-free canned broths (chicken, beef, and vegetable), or you can make your own by simmering meat, poultry, or vegetables in water.  Fish soup is also delicious, but the fish needs to be de-boned prior to cooking.  Since most fish is rather bland, a canned fish sauce or chicken broth is often added to the water for extra flavor.
Always remember to use cold water when you start.  Add the meat then bring the water quickly to a boil.  Once it starts to boil, immediately lower the heat and keep the water at a slow simmer.  This will keep your soup from becoming cloudy.  Don't add spices at this point—add the spices once the soup is almost done.
When making a beef broth, avoid the more tender cuts of meat.  A cubed chuck steak or even oxtail bones will impart more flavor.  For chicken broth, it's best to use the whole chicken.  Cut the chicken into parts, then you can roast the pieces beforehand for a browner broth, or merely add the pieces to the cold water for a paler stock.  Use a "mirepoix" for vegetable stock.  You're probably thinking, "What in the heck is 'mirepoix'?!"  It's just a fancy name for a mixture of diced veggies (carrots, leeks, celery, onion, etc.).  A vegetable broth is ideal for soups such as minestrone.  Sautéing chopped vegetables in a very small amount of oil until they are soft but not browned helps to bring out their flavor, but this step isn't vital.  Vegetables can be chopped and added directly to the soup to simmer if you prefer.   
One more thing about the broth—Depending on the base you use (beef, poultry, vegetables, or fish) you may opt to add other liquids to your soup, such as tomato sauce, tomato juice, or half and half (or skimmed milk if you're counting fat grams) to name a few.  If you're pouring in a little sherry or red wine, add it at the end and don't allow the soup to boil once it has been added.  (Note:  Too much wine will make your soup bitter.)
The vegetables and legumes that can be added to soup are almost endless.  If you can chop it, you can add it.  There are the usual vegetables of potatoes, corn, peas, and beans of all sizes and shapes, but don't overlook chopped spinach or endive, asparagus, cabbage, turnips, sweet potatoes, Brussels sprouts, and zucchini.  For variety, sometimes add rice, wild rice, gluten-free pasta, or homemade gluten-free dumplings.
Before serving, taste the soup.  If the taste is too bland, add one or two gluten-free bouillon cubes or granules.  If it's too salty, add a cut-up potato, let it simmer about 15 minutes to absorb the excess salt, then discard the potato.  If the soup tastes acidy, stir in 1/2 teaspoon sugar.  And don't forget to stir in your herbs at the end so their flavors are preserved instead of simmering them away.
There are some very simple options for removing fat from soup to make it healthier.  You can cover and refrigerate the soup for 6 to 8 hours or until the fat rises and solidifies in a layer at the top.  Then use a spoon to lift off the hardened fat.  If you're in a hurry, drag GF bread slices over the top layer of the soup in order to blot up or absorb the grease, then discard the bread.  A few leaves of lettuce dropped in a pot of soup will absorb grease from the top; remove them after the fat has been absorbed.   Blot up the top layer of grease by floating a couple of paper towels on the surface of the soup; when they are fat saturated, throw out the towels.  You will be surprised just how much fat you collect and discard.
Generally, 1 quart of soup will yield 3 to 4 main servings.
Gluten-Free Spicy Beef Soup
Note that this recipe has no added salt so it is low in sodium.
Ingredients:
1 tablespoon olive oil
½ pound 93% lean ground beef
1 cup chopped onion
1 clove garlic, minced
3 cups cold water
1 can (16 ounces) cut-up tomatoes, undrained
1 cup thinly-sliced carrots
1 can (8 ounces) light red kidney beans, drained
½ cup chopped green pepper
2 tablespoons tomato paste
2 teaspoons chili powder
2 teaspoons gluten-free beef bouillon granules
¼ teaspoon pepper
Directions:
Spray a large saucepan or Dutch oven with nonstick spray then add the oil.  Brown the beef, onion, and garlic in the saucepan over medium-high heat, using a spoon to break up the meat into small chunks.  Stir in the water, tomatoes, carrots, beans, green pepper, and tomato paste.  Cover and simmer for 30 minutes.  Add the chili powder, bouillon granules and pepper and simmer for 5 minutes more.  Serves 4. 
 
Thanks to the Courtesy of :

https://www.celiac.com/articles.html/savory-scrumptious-soups-have-serious-healing-powers-r4976/