Schezwan Chicken Sizzler Recipe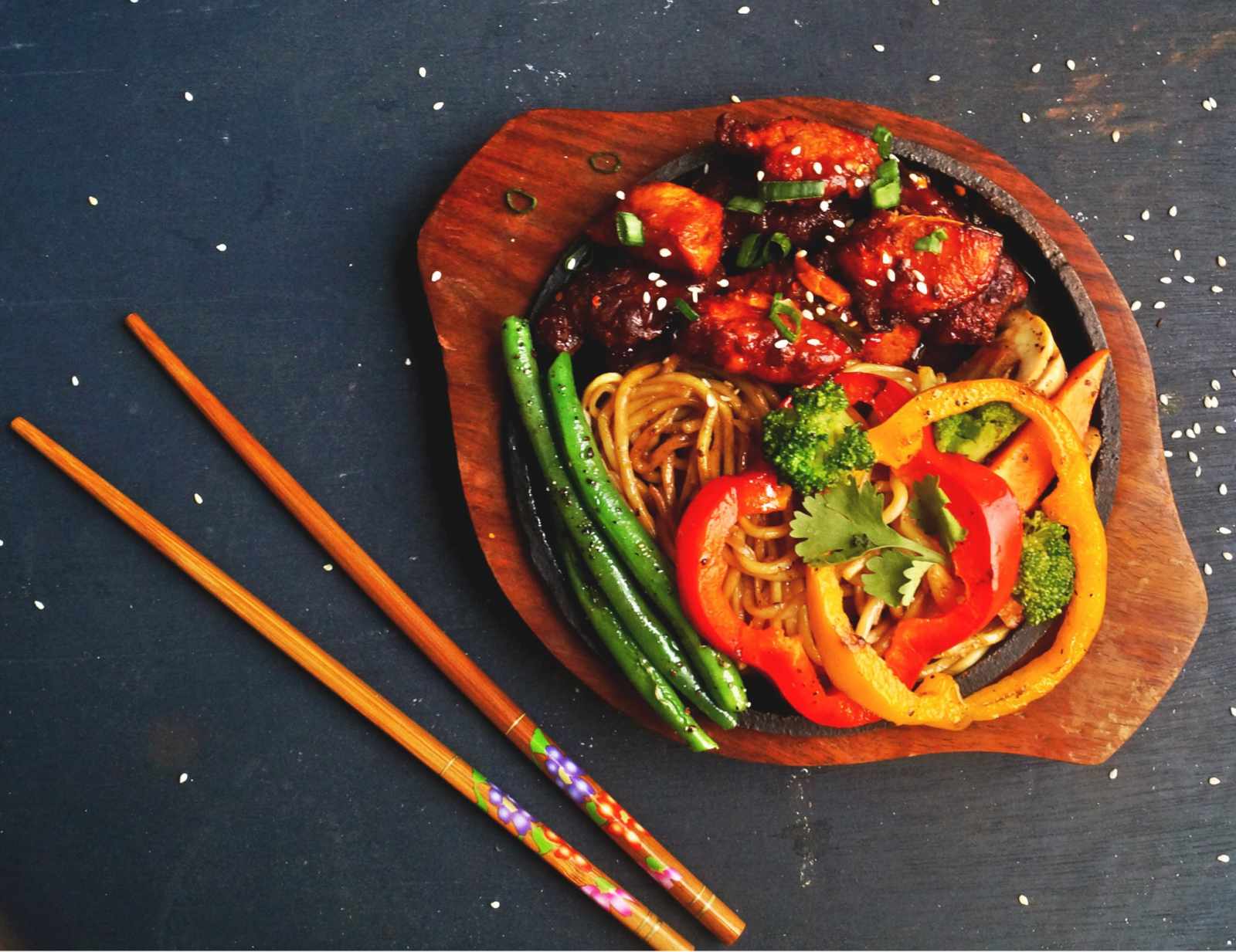 To begin making Schezwan Chicken Sizzler Recipe,in a mixing bowl combine the chicken pices along with Dark Soy Sauce, Cornflour Powder, Wheat Flour and Ginger Garlic Paste.
Give it a good stir and add the cubed chicken pieces.
Make sure all the chicken pieces are coated properly and let it rest for 15 Minutes.
Meanwhile we can work upon the grilled vegetables Blanch carrots, french beans and broccoli.
Heat up a grill pan and drizzle some olive oil. Sprinkle each of the vegetables with salt and pepper.
Working in batches, grill the vegetables until tender and lightly charred all over, about 8 to 10 minutes for the bell peppers; 8 minutes for french beans and carrots ; 4 minutes for the broccoli. Keep the grilled vegetables aside.
Once the chicken is marinated,it is time to fry it. Pour oil in shallow frying pan and let it get heated up enough for shallow frying.Fry the chicken pieces till they start looking crispy on the outer side.
Make sure you do not overcrowd the pan otherwise the chicken cubes will not get crispy.Put the fried chicken pieces on a kitchen towel to remove excess oil.
In order to make Schezwan Chicken heat up some oil in a wok.Saute chopped ginger and spring onion greens together till it becomes fragrant.
Add green chillies, chopped onion and let it cook till the onion becomes translucent.
Mix in soy sauce,schezwan sauce, white vinegar, red chilli sauce, tomato sauce,black pepper powder and salt. Give it a good stir and add the fried chicken pieces into the pan.
Add quarter cup of water and let it cook on slow heat for about 5-7 minutes till the gravy thickens.
And in the end we have to cook the noodles.So heat some oil in another wok/pan and add spring onion into it.Saute it for few seconds.
Add the boiled noodles, chopped green chillies, soy sauce, white vinegar and give it a good stir.
Sprinkle black pepper powder and salt into the noodles and mix it well.Cook for 5-7 Minutes on low heat.
Put the sizzler plate for heating on direct flame. Put noodles and schezwan chicken on the hot plate.Arrange the grilled vegetables on the top and sides of the plate. Garnish it with spring onion greens and white sesame seeds.
Serve Schezwan Chicken Sizzler Recipe with Apple And Ginger Cocktail Recipe and end your meal with Cheesy Chinese Banana Toffee Fritters Recipe.
Thanks to the Courtesy of :

https://www.archanaskitchen.com/schezwan-chicken-sizzler-recipe